Experience a Clash of Clans Attack in First Person [VR Video]
Clash of Clans is one of the most popular mobile games in history, and today fans can experience a real Clash of Clans attack or raid in first person. A brand new 360 degrees virtual reality video was released by the creators, and it's one you won't want to miss. Essentially play the role of an Archer up on her tower, defending an attack.
The game has over 100 million downloads on both Android and iOS, and millions of daily players with no signs of slowing down. In fact, a massive update is expected to be released early next week with some game-changing new features. That aside, today Clashers can experience a raid as if they were present, in the game, and it's amazing.
Read: Clash of Clans December Update: 6 New Details Emerge
Virtual Reality videos are becoming increasingly more popular as of late. With the Samsung Gear VR headset, or just being able to watch 360 degrees videos on YouTube or Facebook with a mobile device. Today you can do exactly that and participate in a Clash raid with giants, wall breakers blasting through walls, rog riders hitting spring traps, wizards taking down balloons, and finally a dragon swooping in. It's recommended you watch the video below on a mobile device.
The video above is a 360 degrees virtual reality video of an attack on Clash of Clans. Users should watch it on a smartphone, and simply turn the phone or spin in a chair to see a full 360 degrees view of the base. Watch the attack start, some extra wallbreakers come in from the East, and behind the Archer tower some hog riders are deployed but are quickly handled.
Viewing it on Samsung Gear VR or VR headset will yield the best experience, followed by a smartphone or tablet, but a computer works in a similar fashion. Just click and drag the mouse to turn inside the video and experience the entire surroundings.
The attack starts off like most raids in Clash of Clans. A few giants are deployed to distract the defense, then wall breakers come in and absolutely destroy the walls. Then before the Giants are killed off they get very close to the Archer tower, but die before it falls. Then to the right of where the video starts more wall breakers make an entrance. Some hogs come from the left, and a lightning spell arrives and shakes up the entire village with amazing effects and visuals. Then a dragon tops things off and cleans up the Town Hall. It's very neat.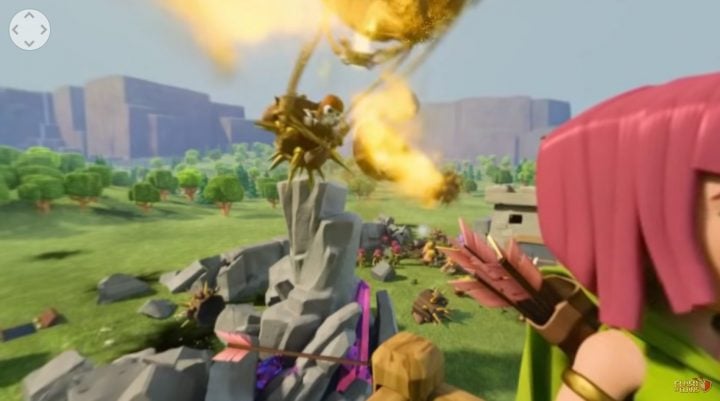 However, the attack was only somewhat successful, and ends in a 2-star raid. Hey, at least they didn't get all three stars and destroy the village 100%. While the attack strategy isn't extremely realistic, and we didn't have any healers working their magic, it's still a neat experience that anyone can enjoy.
Whether you're a die-hard Clash of Clans player, or just enjoy a good virtual reality 360 degrees video, check it out, and share it with your friends. Stay tuned, because a big update to Clash of Clans is rumored to be arriving on December 7th.