Clash of Clans December Update: Key Details for Players
After a quiet few months Supercell just announced a major Clash of Clans update is coming in December. The last big release was back in October, but it wasn't enough. Next is a stronger Town Hall 11, higher level heros, cheaper walls and more. This is what players need to know about what's coming next.
As usual the developers are addressing everything from game-balance to the overall experience and economy of the game. Everything is about to get cheaper, and old favorites like the Dragon will become useful again.
Read: Clash of Clans 2017 Update: 7 Things We Want Next
Supercell confirmed their usual Christmas theme will be coming in an update any day now. Additionally, special events will be coming to the game. Similar to what we've seen in Clash Royale. That said, we have a lot more details below for players.
Clash of Clans continues to be one of the best games for mobile. Updates arrive almost every other month or two, and keep things fresh. However, lately it has been a struggle. Troops like the Bowler are too strong, and upgrades are extremely overpriced. Some have been playing for over three years, and still can't afford to play at high levels.
As a result this Clash of Clans December update will be making some much needed changes. First off we'll get to the exciting things that are new, then explain the overall game balancing tweaks after.
Clash of Clans Update: What's New
There are a few things that will be new with this update. For one, it will deliver the popular Christmas theme to the game. Then, next week Supercell will open three Christmas presents that will have surprises relating to the game. Essentially more sneak peeks about what will complete this update.
After this update arrives there will be a new "Events" tab inside Clash of Clans. Frequent new and exciting events and special challenges are coming. Which will be other ways to earn gold or elixir, complete achievements and more. These have been very successful in Clash Royale. Furthermore, three surprises will be announced next week.
Upgrade Discounts (time and/or cost):
Barbarian King levels 31-40
Archer Queen levels 26-40
Wall levels 10-11
Wizard Tower levels 3-9
Clan Castle levels 5-6
Hog Rider (all levels)
Golem (all levels)
As you can see above, the December Clash of Clans update will be exciting. Mainly because everything listed will be cheaper. Both in terms of time to brew or upgrade, and in cost. Walls are getting a huge discount, which is a much needed change.
The Clan Castle will be cheaper to upgrade, and that's partly because there is a new Clan Castle level 7. Allowing players to hold more troops, and for the first time ever, more spells. Once TH11 players upgrade the Clan Castle members can donate an entire freeze spell, if they'd like. This is a big change.
Clash of Clans December Changes
As many of you probably expected, things are changing. Bowler and Miner attacks are everywhere, and we no longer see old-school troops. Like Lava-Loon rage. Supercell is bringing that all back in a big way.
Below is a detailed breakdown of everything that will be changing after the December update. From stronger TH11, more walls, cheaper walls, higher Wizard Towers, and King or Queens can now be upgraded past level 40. That's scary. Town Hall 11 is already extremely overpowered.
New Town Hall 11 Attack Levels:
Barbarian King levels 41-45
Archer Queen levels 41-45
Clan Castle level 7
Golem level 6
Hog Rider level 7
Poison Spell level 5
"These key additions to TH11 help sharpen the line between TH11 and TH10 gameplay, providing some needed attacking resilience.
Clan Castle level 7 is an especially critical attack boost, allowing donation of larger Spells like Rage and Freeze!"
Poison Spell radius slightly increased
Poison's small range makes it harder to use than it needs to be. An increased range demands less pixel-perfect precision.
Witch damage and hitpoints increased
Witch still isn't quite where we want her to be. This cautiously optimistic boost focuses more on her direct damage.
Balloons attack after reaching their target slightly sooner
Dragon attack speed increased (DPS is unchanged)
P.E.K.K.A attack speed increased (DPS is unchanged)
Fast-attacking units like Valkyrie and Bowler have left these power-hitters feeling rigid and slow. Faster attacking gives them a proper chance to flex their muscles.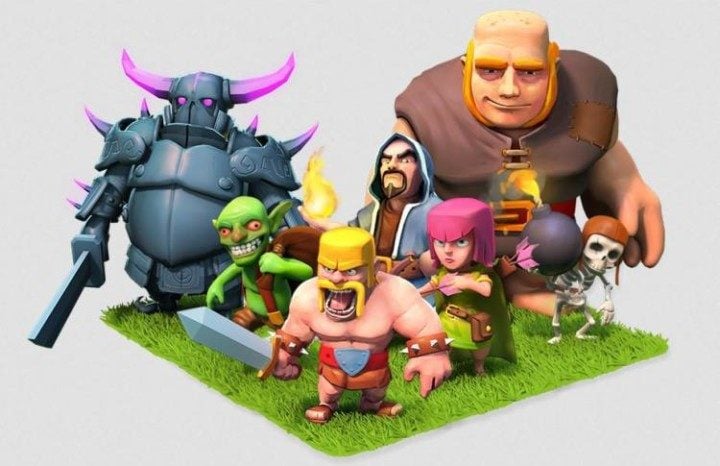 NEW: Wizard Tower level 10 (TH 11)
Wizard Tower level 9 available at Town Hall 10 (was 11)
Late-game Wizard Towers fall a bit behind other, better established defenses. This level boost especially affects tower hitpoints.
Wall level 12 (TH11: max 50 pieces)
As we slowly phase in TH11-level walls, improving Wall utility is an area we have our eye on for future balancing updates.
Final Thoughts
In closing, we're excited to see special events, better spells, and the stronger (and faster) dragon and balloon make a comeback. These changes will put a refreshing spin on this classic game. Keeping things fun, exciting, and now cheaper than ever before.
The Christmas theme update is always a big one, and this looks to be right on time. Expect an update on the Google Play Store and iTunes sometime around the end of next week, which will deliver everything detailed above. As soon as we know more details or have an exact release date we'll update with more information.