Clash of Clans December Update: New Details Emerge
A massive game-changing update is coming soon to the popular mobile game Clash of Clans. Over the course of the past week the developers, Supercell, have been releasing small teasers and sneak peaks regarding what to expect. Below are a few key new details, what to expect, and everything Clashers need to know.
Those who've been following along at the official Clash of Clans forum know about plenty of the changes already, but this afternoon a few more changes were announced. There will be no more Town Hall sniping, shields will be harder to get, bases are getting bigger, and we'll now have 30 more seconds to complete attacks. Read on for all the details.
Read: Clash of Clans Update Release Date & More Revealed
Earlier this month the developers released the first set of changes and "sneak peeks" revealing some of what's to come, and we'll slowly be learning more for the next 7-10 days. From what we're hearing, the Clash of Clans December update will arrive on or around December 7th. Here's what you should know.
Typically Clash of Clans updates arrive after 3-4 days of sneak peeks or teasers from the company, which are revealed at the official forum or on Facebook. However, this update is such a massive update the company confirmed there will be two weeks of sneak peeks, which started on Monday the 23rd of November.
This means that in roughly two weeks, on or around December 7th, all the changes will be known, new features announced, and the update should begin rolling out around the end of the two week teaser period. That said, here's what we learned this week.
Read: Clash of Clans Update Teases Huge Changes to Shields
Huge changes are coming to Clash of Clans across the board. From Town Hall 11, bigger map size, a 3rd hero, a new defensive building and more. Then this week they revealed shields won't be given out for Town Halls being destroyed, which is a huge change. Now an attacker must use at least 1/3 of their army and get 30% damage before users get a shield. This will get rid of the "cheat" where many players leave Town Halls out to be destroyed for an easy and cheap shield, to hide their gold and Elixir from other attackers. That's just one small aspect of the change though.
Today we learned that the map size has increased by over 20%, giving users more room to work with. Then, the attack time has been increased by 30 seconds both in regular clash, and in Clan War. This is huge. With stronger defenses, a 3rd hero, and upgrades across the board users will need more time, and now we have it. Here's a recap of everything announced so far.
Shields:

No shield given from Town Hall destruction
[UPDATED] No shield given if attacker does not deploy at least 1/3rd of a full army
12 hours shield given at 30% destruction
14 hours shield given at 60% destruction
16 hours shield given at 90% destruction
Attacking Through Shield:

Can now enter Multiplayer matchmaking or Revenge without affecting shield
Executing Multiplayer or Revenge attack while shielded deducts 3 hours of shield (attack without losing your shield)
Additional attacks in the same shield deduct more hours (4, 5, 6, 8, 10, 12 hours)
Shields can be dismissed manually (to intentionally take a defense)
Village Guard:

Village Guard prevents you from being attacked while shield is down
Can go online, offline and attack with no penalty under Village Guard (no more leaving your screen on for hours)
Free Village Guard activates when a shield expires:

Titan I / Legend League: 3 hours free Village Guard
Titan II League: 2 hours free Village Guard
Titan III League: 1 hour free Village Guard

[UPDATED]

Champion League (all levels): 30 minutes free Village Guard

Master I League and below: 15 minutes free Village Guard

2 hours extra Village Guard available in Shop for 10 gems while shield is down (23 hour cooldown)
Village Guard can be dismissed manually (to intentionally take a defense)
Personal Break Timer (PBT):

PBT is 3 hours: forced offline for 6 minutes after 3 hours cumulative online time without shield
PBT resets when gaining shield, or in other reset cases below
Buying 2-hour Village Guard from shop extends current PBT by 2 hours
PBT paused during server maintenance, but not reset
PBT reset cases:
After defense with shield: Full PBT reset
After a defense without shield OR 6-minute PBT kickout without defense: PBT extended (+15 minutes to PBT, +15 minutes Village Guard)
After 2nd consecutive defense without shield OR 6-minute PBT kickout without defense: PBT extended (+15 minutes to PBT, +15 minutes Village Guard)
After 3rd consecutive defense without shield OR 6-minute PBT kickout without defense: Full PBT reset + Free Village Guard based on League
After 3 hours consecutive offline time without defense: Full PBT reset (no Village Guard given)
Loot:

Town Hall contains much more loot (shares available loot with storages)
Town Hall has loot worth of 1 Gold & Elixir Storage + 1/4th Dark Elixir Storage
Town Hall and Clan Castle count as resource buildings – Goblins will attack them for x2 damage
Available loot % slightly increased for TH6 through TH10
Available loot reduced for attacking one TH level lower
League Bonus:

All League Bonuses increased
League Bonuses is now progressive, from 0% to 100%, based on destruction percentage
100% League Bonus earned at 70% destruction
Trophy Rebalancing:

Trophy offers from lower players increase with League level (from +1 minimum at Bronze to +6 minimum at Titan 1 and Legend)
Trophy offers from higher players decrease with League level (e.g. from +56 at Bronze to +48 at Titan 1 and Legend)
[NEW] Other Changes:

All trap rearm costs massively reduced (~75% rearm cost reduction on average of all traps)
X-Bow reload costs massively reduced (~70% reload cost reduction for all levels)
Time until you can be attacked after going offline increased from 1 minute to 5 minutes (to help cases of accidentally going offline)
That's a lot to take in, and all of these changes have a lot of gamers frustrated that Clash of Clans may become too complicated and take away the simplicity of the game. In reality though, these changes allow for more strategies, better attacking, more loot available, better army's as users will have time to brew them without being attacked all the time, and more money will be awarded. Not to mention more time to complete attacks. We have 30 seconds longer than before, which will be needed to get 100% and all three stars in some attacks.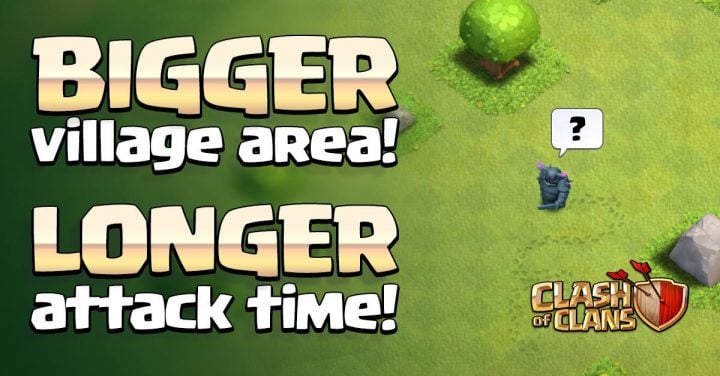 Yes users will get fully attacked more, rather than just lose a Town Hall, but this benefits the entire community. More bases will be open and available to attack, not hiding behind an easily achieved shield. Re-arming traps costs over 70% less, since we'll be getting attacked more, loot from raids has increased, and the best of the update has yet to come.
When we learned shields were going away many gamers were worried and upset, but the next two sneak peeks announced new changes to balance that all out. Then, all of next week Supercell will make multiple announcements revealing more changes, addition features, higher troop upgrades and more to round out and complete this update.
The developers have reminded everyone to wait for all the sneak peek and changes to be announced, and the "bigger picture" will be fully understood, which should resort in a better game for the millions and millions of active daily players. The changes above may sound drastic and confusing, but in-game everything will be very easy to understand, and users will be back to attacking as always in no time. Only with more time to brew bigger armies, more base options to attack, and more money to be made. Stay tuned for more details, and we'll update as additional announcements are made.
What do you guys think? Are these changes exciting and make the game better, or too confusing and ruining the simplicity of Clash of Clans? Let us know in the comment section below.