Clash of Clans December Update: Everything You Need to Know
After nearly two months of waiting since first being announced at the end of October, the huge December Clash of Clans update is finally here. With it comes loads of changes, Town Hall 11 for higher players, a 3rd hero, and so many small little tweaks that all players need to know exactly what to expect.
On October 24th Supercell, the developers behind one of the most popular mobile games ever released, revealed some big changes to their hit title Clash of Clans. The update arrived last night, and users are likely signing in and seeing huge losses of gold and elixir, a bigger base layout, and other things. Below we'll be going over all the changes, in a simple to understand manor.
Read: Clash of Clans December Update: Tips & Tricks
At this point most Clash of Clans players should know what's new if they follow the game on Twitter or Facebook, or have followed the sneak peeks over at the official forums. For those that don't, read on for all the details.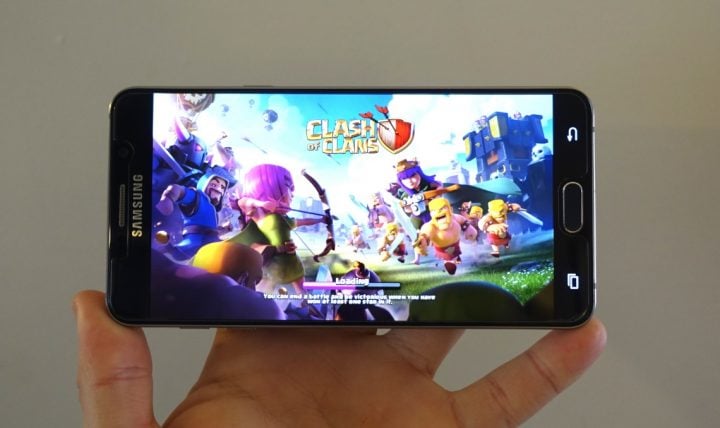 Today Clash of Clans received what they're calling the biggest update ever. And while many won't notice too many changes visually, there are a lot of things that are different behind the scenes. From being able to donate spells to clan-mates, Town Hall 9 players automatically have freeze spells, and there's a new Town Hall 11.
That said, Town Hall 11 isn't important for the majority of players that haven't progressed that far, and it's the other new features or shield changes players need to be aware of. The most important aspect of the update is regarding the Town Hall. While it's important, the game never made it a big deal. As a result players didn't protect the Town Hall, left it outside of walls, and used it as an easy or cheap way to get attacked, get a Shield, protect their money and save gold and elixir for upgrades. This isn't possible anymore.
Town Halls being destroyed no longer give you a shield. This is the most important thing to know. Secondly, the Town Hall now shares the gold, elixir, and dark elixir with all the other storage units, and holds 1/4th of a players money. So if it's destroyed, you could lose hundreds of thousands of each.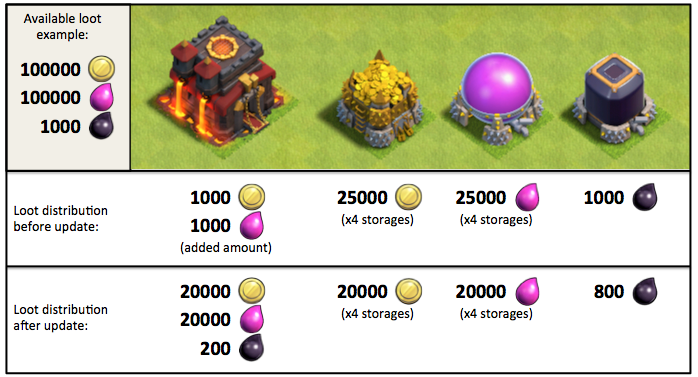 Above is a small sample of how money is distributed, so keep that in mind moving forward. Users will need to protect the Town Hall more than ever before, as it doesn't give them a shield and holds your loot. However, if an attacker uses at least 1/3rd of his army, takes down your Town Hall, and does 30% damage, a 12-hour shield is granted. So you can still get a shield from losing the Town Hall, but it will take more effort from the attacker.
The other change is shields, and as we said above players can't get them as easy. As a result, you don't lose them as easy either. We can now attack through a shield, without losing it, but it takes 3-hours from the Shield. The second attack takes four, then five hours if any is left.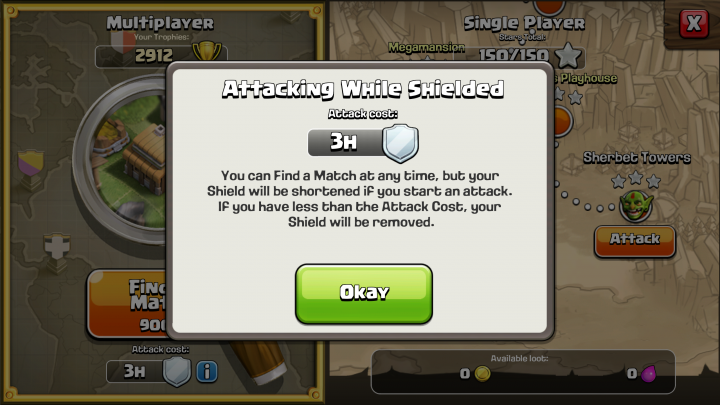 With that all said, here's the full list of in-game tweaks and the entire changelog for those who are interesting in everything new in the December Town Hall 11 Clash of Clans update.
One of the Biggest Clash Updates – Ever!
• Town Hall 11 is bursting onto the scene! BOOM!
• Grand Warden & Eagle Artillery: The most powerful and strategic additions ever!
• New troop levels, defense levels, and Clan Spell donation
• Attack through Shield at any time, but be sure to protect your Town Hall!
• Guard your play sessions when Shield is down and never get attacked off-guard again
• Goblins chasing Town Halls, bigger League Bonuses and Trophy offers, and so much more!
Turn It Up to TH11!
• Experience the biggest, baddest, most challenging Town Hall level ever: Town Hall 11!
• New Town Hall 11 hero Grand Warden can make armies nearly unstoppable!
• New Town Hall 11 defense Eagle Artillery delivers awe-inspiring devastation from afar
• More defenses, including an extra Cannon, Archer Tower, Wizard Tower and X-Bow!
• New Town Hall 11 levels for Minion, Witch, Wizard Tower and more!

Grand Warden: Your Army's Newest Hero
• Harness powerful new battlefield tactics by boosting and protecting your troops
• The Grand Warden toughens all nearby troops and can make them temporarily invincible!
• He jumps, he flies – fit the Grand Warden into any strategy and make your army shine
Eagle Artillery: The Sleeping Sentinel
• This massive, long-range weapon obliterates poorly prepared attacking armies
• Volleys of explosive shells clobber tough troops and wear down others near the blasts
• Eagle Artillery only activates after many troops have been deployed, leaving the door open for tactical strikes and cunning multi-phase attacks!
Do the Spell Shuffle
• Request reinforcement spells, not just troops, starting from Clan Castle level 4
• Donated spells receive all existing Clan Perks benefits
• Freeze Spell is now unlocked at Town Hall 9 and has slightly longer duration on lower levels
Shields – Flexible and Fair Defense
• Town Hall destruction no longer grants a Shield – bring your Town Hall inside!
• You can attack while shielded at any time for just a small Shield reduction
• Get Shield at 30% destruction, more at 60%, but only when a sizable army attacks
Read: 10 Common Clash of Clans Problems & Fixes
Guard – Play Safe From Attackers
• Guard protects you from attacks and lets you attack others all you want
• Get free Guard when Shields expire and play freely without worry of being attacked
• Higher Leagues grant more free Guard – Titan I & Legend players get 100% coverage!
• 2 hours of extra Guard is available in the Shop every day
Richer Raiding: Loot and Trophies
• Town Halls now hold lots of available loot – destroy them in battle for a big payout!
• League Bonuses are bigger than ever, but scale with your destruction percentage
• Trophy offers get bigger and Trophy losses lower the higher your League!
Gameplay Balancing
• Battle time limit has been increased by 30 seconds
• Goblins now target the Town Hall and Clan Castle for 2x damage
• Rearm costs for all traps have been massively reduced
• Reload costs for X-Bows have been massively reduced
• Large amounts of Healers now have reduced effectiveness on the same unit
• Army boosts have been reduced to 5 gems for 1 hour of boost
• Cost for finding a match and 'Nexting' reduced for TH10
• Clan War Preparation Day has been reduced to 23 hours
• Troop combat and pathfinding AI has been polished up and tightened
• Available loot percentage on Town Hall levels 6-10 has been slightly increased
• Villages one Town Hall level lower are now worth slightly less loot
• The playing field and troop deployment area have both been expanded (outlying obstacles have been automatically moved)
Other Balancing and Improvements
• Two new achievements have been added: Anti-Artillery and Sharing is Caring
• Troop/Spell donation interface has been revamped and now shows existing donations
• Troops in Barracks can now be queued in sequence, similarly to the Spell Factory
• The Clan War button now animates when a war attack starts
• Active Shield or Guard can now be manually dismissed by tapping on the icon
• You can now be offline a bit longer before being made vulnerable to attack
• A special sound plays when finding a multiplayer target after 10 seconds of searching
• A special sound plays when no multiplayer targets are found and a search is cancelled
• Personal Break online-time limit has been reduced to 3 hours
• Personal Break limit is now extended instead of reset in some cases
• Multiplayer matchmaking is less likely to offer opponents under your Town Hall level (only below Champion League)
It's a pretty massive change-log, with more changes at once than we've ever seen in the history of Clash of Clans. The biggest changes for those who aren't a TH10 looking to upgrade though, are the Town Hall, shield, and loot changes.
Re-arming all traps and x-bows or inferno towers is now 70% cheaper, because we'll be getting attacked more, so that's good news. However, we didn't see nearly as many upgraded troops as expected, there's no new dark troop or new spells, and hero's are still unavailable for War while upgrades. All things many were expecting to see once this update arrived.
These changes are all relatively minor during in-game play, even though reading through that huge list makes it sound game-changing. It's still the same Clash we know and love, players will just have to work harder and attack or defend the way the game was originally intended. Rather than hide behind cheap walls, cheat with always-on bots, and Town Hall snipe their way up to higher leagues they don't belong in.
We'll be sharing additional details soon, going over some of the biggest problems since the update for players (like missing Dark Elixir or not able to upgrade to freeze spells) as well as other things.
In closing, we can expect at least 1-2 quick updates over the course of the next 2-3 weeks with further refinements to the update, or to fix issues, the snowing winter theme, and other things. This is the first big update in a while, and there will likely be a few problems plaguing users. Drop us a comment below with thoughts on the upgrade, problems you're seeing and more. Stay tuned for more details.