Clash of Clans Star Bonus: What You Need to Know
In January another big Clash of Clans update arrived that introduced a few important changes. It delivered a new Star Bonus, Loot Cart, a Treasury to house money and more. There is a lot of frustration around how the new Star Bonus works, and below are more details for players.
The problems started after a major update in December, called the Town Hall 11 update. It was the biggest update in the history of Clash of Clans, which is one of the most popular mobiles games of all times. It had a lot of players upset, caused money or "loot" in the game to dry up, and the Star Bonus and Loot Cart aim to fix those problems.
Read: How to Fix Clash of Clans Device Not Compatible Problems
Lately we've seen a lot of confusion around the new Star Bonus. Players claiming it's only available every other day, not daily, or asking when the 24 hour clock starts and more. Some are even reporting attacks don't count, and players aren't earning their stars. Read on for more details.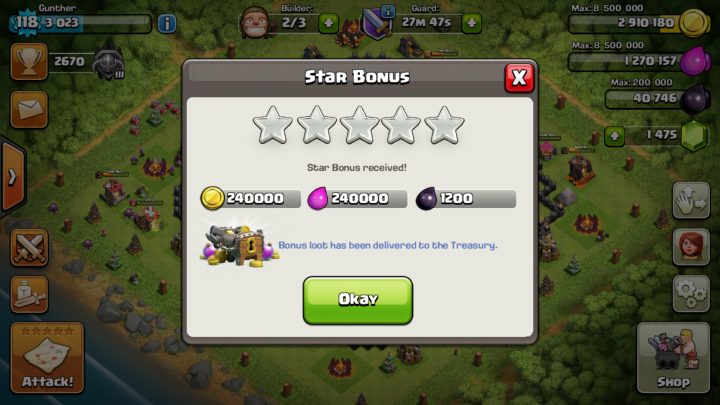 How it Works
The new Clash of Clans Star Bonus is actually extremely simple to understand. It's basically a daily goal. If a player attacks enough throughout a 24 period to earn 5 stars, they get free Gold, Elixir, and Dark Elixir. Extra money for actively playing the game.
Higher Town Hall players get a bigger Star Bonus with more money, and those in a higher league (based on trophies) get more money as well. The end result is users will want to be in the highest league as possible to get a big bonus, but not such a high league that they can't even get a star during attacks, and fail to get a bonus at all.
The Star Bonus is an addition to the "loot bonus" which is earned while attacking other villages in the game. Users that get at least one star during an attack get a "loot bonus" on top of what they steal from a village during an attack, and the higher percentage of damage done the bigger the loot bonus.
Read: 5 Alternatives to Clash of Clans
However, the problem is a lot of people don't understand the new Star Bonus. The day the update arrived a lot of players started attacking, got five stars and the bonus, then had to wait 20+ hours for another bonus. This lead many to believe this isn't a "daily bonus" but it is. Below we'll explain why, along with a response from Supercell, the developers behind the game.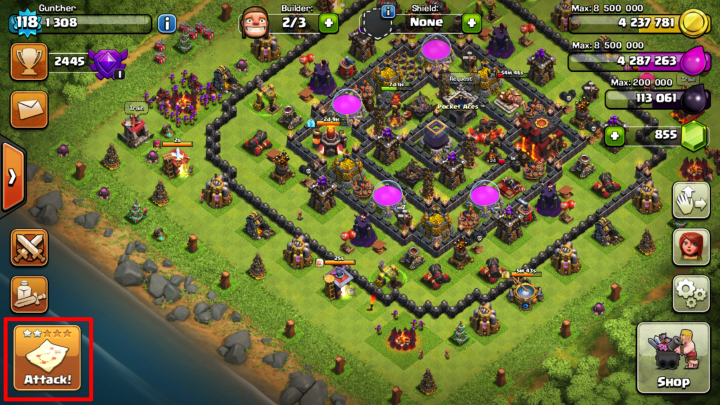 Star Bonus Clock
It might not feel like it, but the Star Bonus is available every 24 hours. If players time it right, they can even earn the bonus back-to-back, earning millions in loot in just one day. Here's the official explanation from Supercell themselves.
When you complete your very first Star Bonus, a 24-hour timer starts before a new Star Bonus will become available.
Thereafter, every time a new Star Bonus becomes available, a new 24-hour countdown timer will start running immediately behind the scenes. This timer counts down even while you work on completing your current Star Bonus! When this timer reaches "zero" is when your next Star Bonus will become available.
Keep in mind, though, that you can only have one Star Bonus available at a time . You'll have to complete your current Star Bonus to get the next one, even if this timer is already "zero" behind the scenes. In this case, the next Star Bonus will be available immediately. Two in a row!
If you do your very first attack late in the day, after work at around 5PM and earn a star, this is when the Star Bonus starts. Behind the scenes a 24 hour clock begins. Meaning you have until tomorrow at 5PM until the next one starts, but you can still earn it past 5PM. It isn't every morning at midnight, or anything like that. As everyone plays at different times around the world.
This sentence should make the most sense. "This timer counts down even while you work on completing your current Star Bonus!" If you get those last few stars after the 24 hour window, you still get the bonus, and the next one starts immediately. Meaning some players can get two in one day. However, if you do, there will be a countdown timer until the next one starts. So earning it too fast makes players feel like it isn't daily, but it is.
Missing Stars
Multiple players have reported that stars aren't being earned or counted, wasting attacks. There's an explanation for this as well.
During a "revenge attack" there is no loot bonus (if you didn't know already) and revenge attacks also do not count towards the star bonus. Only multiplayer fights using the "attack" button count. This means if you go into the history and revenge someone that's an easy target, you won't earn stars toward the bonus.
Also, each week the "tournament" and league levels are reset. The shield badge showing what level or league a player is in goes gray, and users have to attack to be placed in a league. That first attack of the week doesn't earn a loot bonus, and doesn't count towards the star bonus. It does however put you in a league. This is needed to place players in the right league to calculate matchmaking, loot bonus earnings, and the star bonus. So keep that in mind and don't waste a big army on the first day of the week, as it won't count. Be in a league first, then start working towards the bonus.
Final Thoughts
Being able to work on the bonus after the clock ends and not waste some earned stars is nice, but getting two bonuses fast and having to wait isn't. Some love the system, and heavy players that attack all day long don't. It works for most, but not everyone.
It would be frustrating to have four stars, but the time run out and have to start over the next day. This is why the internal 24 hour clock once a star is earned is in place, rather than simply a 24-hour clock that resets every single day at midnight. While that would probably be less confusing, the current system in place caters to the players, and makes it so we don't lose any stars earned, ever.
It could change or be expanded with more daily goals in the future, but we'll have to wait and see. Hopefully this clears up any confusion regarding the Star Bonus in Clash of Clans.
Clash of Clans 2017 Update: 8 Things We Want Next
More Gem Mines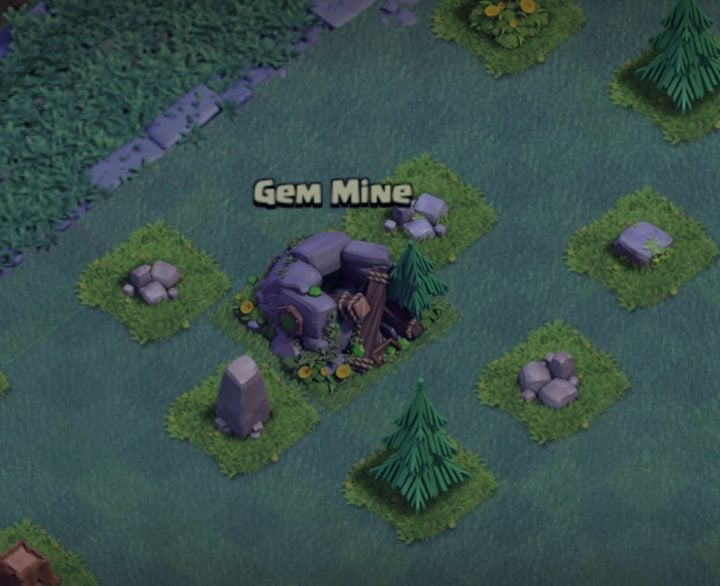 Every time Clash of Clans posts to Twitter or Facebook, someone in the comments asks for a gem mine. We never thought this would ever happen, but it did. The May update finally added a Gem mine, but only to the Builders Base. Gems work in both villages, so it's helpful, but also very slow. In fact, it only produces a few gems a day and isn't really worth the cost to unlock it.
Allow another Gem mine in the regular village or faster production. Nothing crazy like hundreds a day, just a few. Enough to mix things up for players without digging into Supercell pockets completely.
Those who are willing to slowly save up gems over the long haul could use this to their advantage. Then, like regular gold in the game, attackers should be able to steal your gems from Gem mines. We don't have a Gem storage but attackers should be able to earn a few. This could even give players an incentive to not only use them but attack when someone is sitting on a pile of gems.

This article may contain affiliate links. Click here for more details.