Clash of Clans 2017 Update: 8 Things We Want Next
Donate Loot & Gems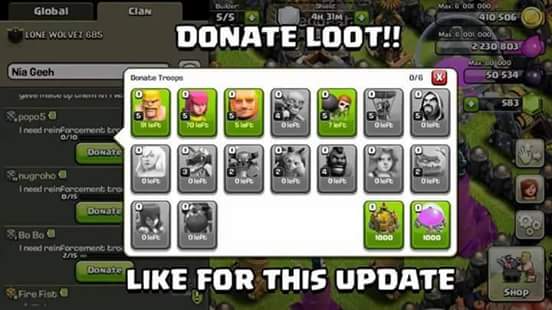 Currently, users are able to donate troops or spells to Clan members. The Clan Castle is essential for defense, or during attacks. Users can donate almost anything, as long as the castle is big enough to hold it. Recent updates added Dark Spell donations, but we want more.
What if we could donate gold, elixir or gems to other clan members? Small Town Hall 7-8's have a hard time saving 6 million Elixir for upgrades. If they could request it and each clan member donate 50,000 gold, things would be a lot easier. As a TH11 I cannot for the life of me save 10 million for upgrades, so I've been grinding out my walls. It's getting boring.
The only problem with this is the potential for players to stop spending real money in the game. Which of course, is the end goal for Supercell. The company makes millions of dollars from Clash of Clans, the least they could do is throw us a little break.