Clash of Clans Gem Boost Arrives for 3-Year Anniversary
Last month a huge updates to Clash of Clans delivered some of the biggest changes to the game in years, and now today another Clash of Clans update has arrived that's giving users the popular gem boost option. Starting today users get full resource boosts for an entire week, for only one gem.
Clash of Clans is one of the most popular mobile games in history, with millions of downloads and players across Android and iOS, and this week the game turns three years old. To celebrate its third birthday or 3-year anniversary the developers are giving back to players that made the game a success.
Read: Clash of Clans Update: 5 Things We Could See Next
The game keeps getting better and better as the developers are continuously updating Clash with more features, additional options, new attack strategies and new troops, and now to keep the excitement going everyone can double their gold, elixir, and dark elixir for an entire week. Read on for more details.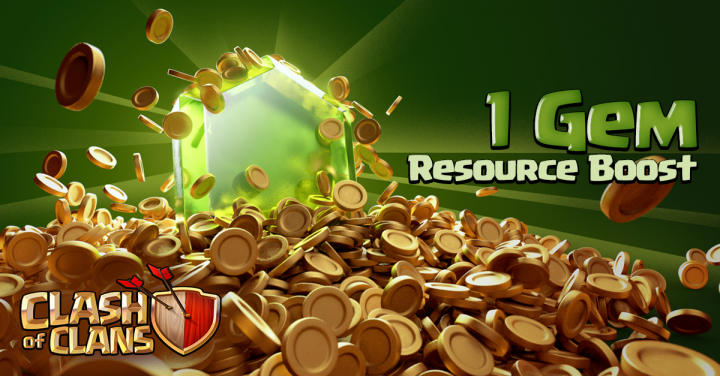 With Clash of Clans gamers can enjoy everything this game offers absolutely free, but there are in-game purchases (optional) that are called gems. Users earn gems by getting little boxes on their maps, cutting down trees or rocks, or by completing accomplishments. These gems can then be used to boost resource collectors, finish upgrades early, and much much more.
Alternatively, and the way Clash of Clans makes so much money, gamers can also buy gems in-game to use towards saving up millions of dollars for huge upgrades like X-bows or inferno towers. I use gems to finish the upgrades to my King and Queen the most, as they're crucial to attack strategies.
In the past, on rare occasions, the developers will allow gamers to use one gem to double the speed of the resource collectors for an entire day. This often means players can make hundreds of thousands of dollars in gold, elixir, and dark elixir. This allows for upgrades to troops, more buildings, and upgrading walls.
Typically we see these boosts on rare occasions and they only last for a few days. Users are able to spend one gem each on each gold, elixir, or dark elixir drill that will double its output for 24 hours. This is something everyone loves, myself included. On the flipside, when boosts are going on it also means there are hundreds of thousands of dollars available as loot to steal from bases while attacking.
Today though, in celebration of Clash of Clans turning three, the developers are offering the best gem boost in the history of the game. Rather than one gem boosting a collector for an entire day, one gem each will boost collectors for an entire week. Yes, an entire week for one gem. This is huge.
From today until August 7th gamers will be getting double resources if they're willing to spend some money on gems, or have some saved up from cutting down trees or meeting goals in-game. I've gone ahead and started the boost myself, and will be enjoying all the loot available to steal for the rest of the week. Don't forget to sign-in often and clear your collectors, or they'll fill up fast.
Basically for a high player with a Town Hall level 10, 17 gems is all it costs to double the production of their seven gold mines, seven elixir collectors, and three dark elixir drills. It's time to start building tons of archers and barbarians in hopes to do a few collector raids and earn millions of dollars. This is the biggest boost I've seen since I started playing Clash, and the fun will continue until August 7th. Enjoy.

As an Amazon Associate I earn from qualifying purchases.