Clash of Clans Update Problems Frustrate Players
Today the big December Clash of Clans update finally arrived after nearly two months of waiting, and we're already seeing countless reports of problems or bugs. It's the biggest update to the game in a long time delivering Town Hall level 11, a 3rd hero, bigger maps, and over 25 other changes. As a result there are a few issues floating around, and below are some potential fixes for those experiencing issues.
For starters, the game is being played by millions and millions of players on both Android and iOS who are excited about the new update. Users are redesigning their bases due to new Town Hall shield rules, attacking players, participating in Wars and more. So much in fact, that this morning the game started to lag and Supercell took a short break to increase servers to handle the extra load.
Read: Clash of Clans December Update: Everything You Need to Know
However, that's just the tip of the iceberg. Since the Town Hall 11 update arrived on the morning of December 10th, users have flooded the forums with different problems. Town Halls clicks are crashing the game, people aren't able to update, there is laggy gameplay and more. Read on for everything we know, and what to expect moving forward.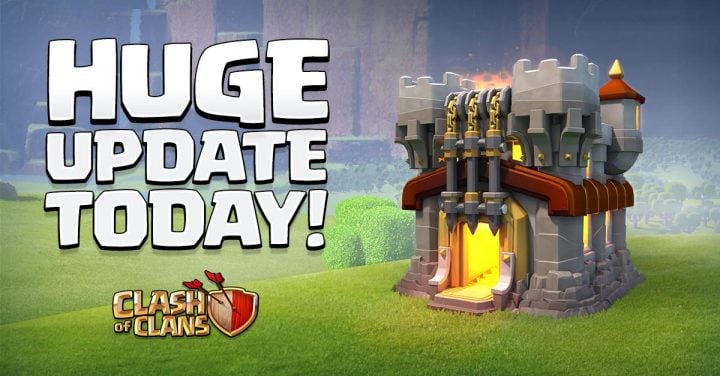 First up we're seeing a lot of complaints about Clash of Clans crashing when users click on the Town Hall. This is a huge issue, mainly because we need to tap the Town Hall to move it inside walls and protect it while redesigning bases. Users also click the Town Hall to re-arm traps, and perform other tasks. This problem and many more have been acknowledged by Supercell, and an update will likely be released in the next day or so with loads of fixes.
If any x-bow or inferno is being updated right now, and a user clicks on the Town Hall, the game crashes. This is a known issue, and will likely be resolved momentarily.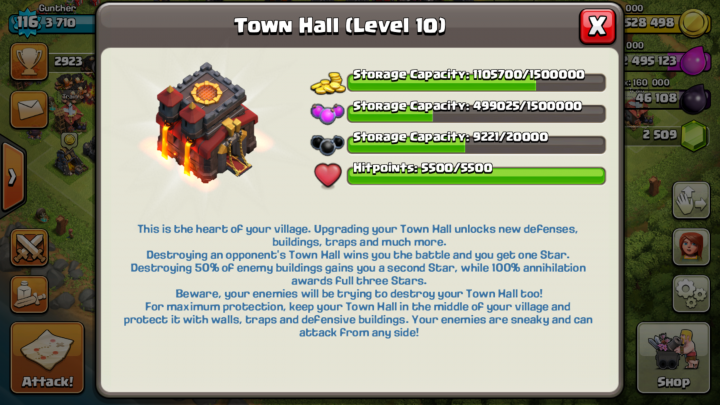 With so many people online and looking at top bases, the "Top Clans" and "Top Players" areas in the trophy section is moving slow, and much much more. Players keep getting kicked off for playing too long, which is actually a new feature called a "personal break timer" where users can only play for 3-hours. This is to prevent cheaters who are listed as "always online" but this fix is causing more harm than good.
Personal Break Timer
We're seeing countless Clashers who updated the game this morning, spent some time redesigning their base, attacking villages, talking with Clan mates and starting wars. If played for more than three hours the personal break timer kicks in, and kicks players off the game. After 6 minutes if they don't get attacked, they get a 15-minute window to play again. Then are kicked for an additional six minutes. If this happens three times, or you go 30 minutes without turning on the game, the timer resets, and you can play for an additional 3-hours.
If you're running into the personal break timer shown above, turn off the game for 30 minutes, and it will reset. This will likely be one of the first changes made in an incoming update, because 3-hours simply isn't long enough. Supercell is actually making people play their game less, how is that a good thing?
That being said, here's a list of all the known problems since the update arrived today. Supercell knows about them all, and is working hard to address them. No announcements have been made yet, but we can expect another quick bug-fixing update in the next 24-48 hours.
Known Update Issues
 News section in inbox is empty for all languages other than English
Android users who cannot update the app, please try the following: go to Applications > Google Play Store > Clear Cache
Updated: if any defenses that require an Elixir recharge (such as X-bows or Infernos) are under construction, tapping on the Town Hall will cause the app to crash
Global ranking lists are loading very very slowly (too many players trying to visit the top player villages)
Clan Castle below level 4 does not show "full" notification even if it's completely full
Clan Castle not showing full at all, or the popup to "request troops"
If player has Clan Castle below level 4, and has sent a troop request before the update, he or she will be able to get one donated spell from the clan mates. Requests post-update work as supposed and spells cannot be donated
Grand Warden level 1, when built, not shown on players' profile
more
These are a few of the problems Supercell has already confirmed, are keeping track of, and are hopefully working on a fix. We're also hearing the "return to home" button is slow for some, some are reporting they aren't able to donate troops in war, and users aren't seeing an upgrade to the Spell Factory to upgrade and get freeze spells.
Read: 10 Common Clash of Clans Problems & Fixes
Freeze Spells
Town Hall 9 players now have access to the freeze spell, which was originally only for Town Hall 10. Multiple people have asked why they can't upgrade to get the freeze spell, and that's because you don't need to. It's already there. Simply go into the spell factory and brew a level 1 freeze spell.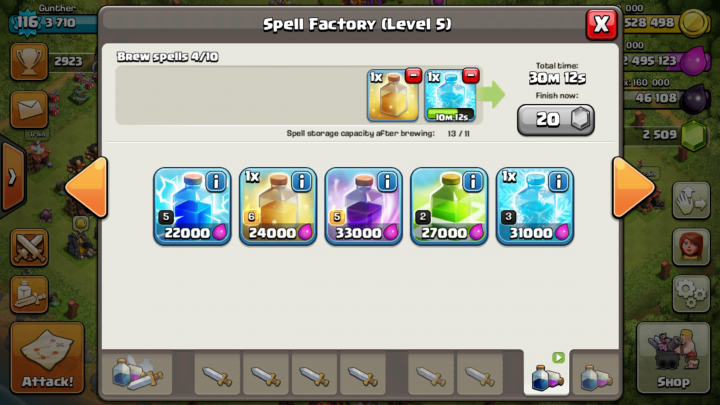 Spell Donations
A part of the new update allows for clan members to donate dark elixir spells to fellow clan members. We're seeing a lot of questions about how to request a spell, similar to requesting for regular troop donations.
You don't have to request for spells. Just request as usual, and there's two lines. One for troops, and another for the spell. Simply write it on the donation pop-up, along with which troops you'd like, and hit request.
Lost Dark Elixir
Another change is the Town Hall now holds gold, elixir, and dark elixir. As a result some users that had full 200k of Dark Elixir at TH9, now can only hold 190k. That is 180k in the dark elixir storage, and 10k in the Town Hall. If you updated and saw 10k missing, it isn't gone, it's just being held in the Town Hall now.
If you had a full 200k, you probably lost the 10k, as TH9 can now only hold 190k of Dark Elixir. We're not sure if Supercell will address this or not.
Lost Village
A very few group of users claim that after the update they've completely lost all progress, and the game has restarted. Essentially an entire village is missing. If this is the case you need to try syncing to Game Center on iOS, or Google+ Games by hitting the in-game settings button, and get your village back. On Android, singing into Google+ in the game will restore an old village.
If this still doesn't work, users will need to contact Supercell. However, they have thousands of emails coming in because of the update, so it could take over 7-10 days before users get a reply. Players will need to provide the village name, clan name, Town Hall level, and player level if available. The more details, and more unique the name/clan name, the more likely they'll be able to find and restore a village. Good luck.
Clash of Clans Update Problems
Above are just a few of the many problems users are mentioning today after the big Town Hall 11 Clash of Clans update. Again, this is the biggest update in a long time, and with over 100 million downloads on both Android and iOS, a lot of people are playing this game.
Users are reporting slowness throughout certain aspects of the game, troops acting up during wars and other things. These could all be due to servers being overloaded, and all will be sorted out shortly. For those experiencing problems, head to the forum to voice your problem, and stay tuned as an update will likely be released in the next day or two with some quick fixes. Thoughts on the new update? Drop us a comment below.
Clash of Clans December Update: 6 Details for Players
Extra Defense at TH11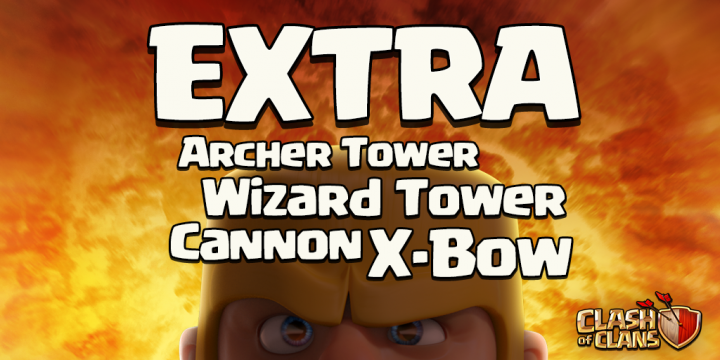 Earlier this week the developers confirmed that part of the update will bring lots of new buildings to Town Hall 11. If they E.A.G.L.E defensive building we saw in October wasn't dangerous enough, Town Hall 11 is going to be very tough.
Town Hall 11 players will get a fourth x-bow, along with another Cannon, Archer Tower and Wizard Tower. Essentially allowing for tons of defense, making them extremely hard to take down. Hopefully the 3rd hero and upgrades across the board will help TH10 players have a chance at defeating an 11, but it's not looking likely at this point.
TH11 players will have huge bases, likely more walls, and a lot of new defenses to buy, save for, and slowly upgrade.

As an Amazon Associate I earn from qualifying purchases.