Clash Royale December Update: What You Need to Know
The biggest Clash Royale update yet just arrived, and more is coming in early January. For months on end the "game of the year" has received improvements, and below we'll go over the latest ones. Here's what players need to know about the Clash Royale update that just arrived and what's coming next. Everything from a new arena, four more cards, cheaper troops, Epic donations and much more.
Supercell released the hit title in March, and it quickly became the most popular game on Android and iOS. Both Apple and Google called it game of the year. A large part of that is the continuous balance changes, new features, and upgrades.
Read: Clash Royale Tips for Beginners: Win Those Battles
Each month players are greeted with balance changes to improve the overall game. These Clash Royale updates keep things fresh, add new cards, and more. For December, some big changes are happening that everyone needs to pay attention to. In fact, this was probably the biggest update ever. Then, we're getting even more content next year that will really shake things up.
In October Supercell slowed down the Giant, nerfed the Mega Minion, and really flipped the game around. In November we received another large selection of changes along with four new cards. So far three out of four are available. In December the new "Electro-Wizard" troop will be released.
Today some very noteworthy changes were made that will affect all players. Cards are no longer useful, combos stop working, and other troops start to shine. Expect big pushes from Elite Barbarians, the Balloon now does insane damage and more.
Clash Royale December Update Details
Today, December 15th the first of two updates arrived. Next will be on January 13th. Supercell released the full update notes on their blog, and have been sharing more details in their sneak peeks thread. Below is what you need to know about it. These are the changes that will effect your gameplay.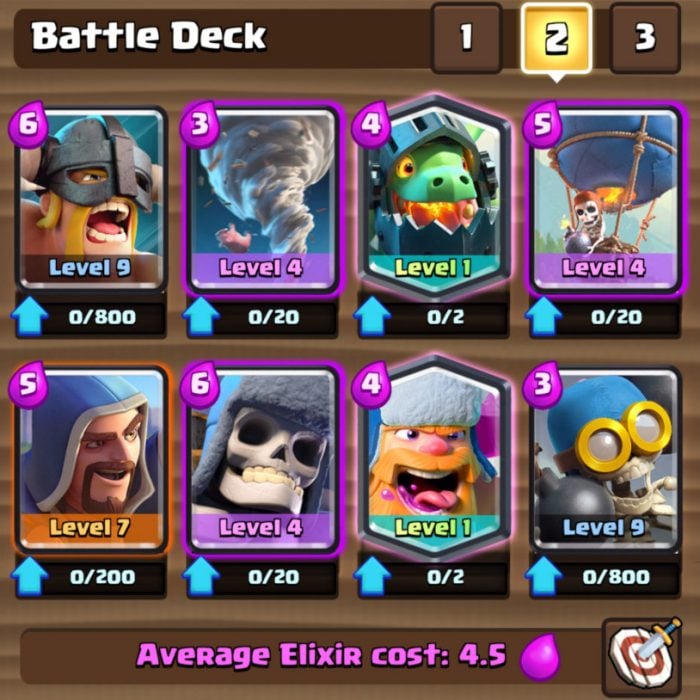 Elite Barbarians: Hitpoints +19%, Damage +14%, Hit Speed to 1.4sec (from 1.5sec)
Tornado: Radius +10%, stronger pulling power
Inferno Dragon: Hitpoints +5%, re-targets 0.4sec quicker
Balloon: Death Damage +105%, Death Damage explosion radius +50%
Wizard: Hit Speed to 1.4sec (from 1.6sec), initial attack comes 0.2sec slower
Giant Skeleton: Damage +8%
Lumberjack: Hitpoints +6%
Bomber: Damage +4%
Mortar: Boulder explosion radius +11%
Mirror: Level 8 Mirror will create max level +1 cards (again)
Take note of these very important changes. The Elite Barbarians needed more power and now they have it. Seriously, they're deadly. And the same can be said about the Giant Skeleton and Balloon. Now they won't be such a gamble. The Mortar will do more damage, sadly, and even the Inferno Dragon and Tornado received a boost. The full reasoning behind these changes can be found here.
Huge Change to Epic Cards
As we all know, Epic cards are some of the most important in the game. They're also extremely overpriced, hard to get, and can't be donated. Well, not anymore. As of December 15th Epic Cards are 50% cheaper, starting at 1,000 gold in the shop. This is huge, because this game has been overpriced for nearly a year.
That isn't all either. We will now be able to request and donate Epic cards to fellow clan members every Sunday. Meaning Epic Sunday in the shop will have more cards, cheaper troops, and allow us to level up those important parts of our deck faster.
Changing how epics are managed is probably the best change we've seen in months. This will make a major difference in battles. Users can also expect more cards in Epic chests the higher the Arena, as they now scale along with in-game progress.
New Clan Chest
Similar to the special events inside the Challenges tab lately, starting December 19th there will be a new "Clan Chest" similar to the Crown Chest. The entire clan can work towards filling it up, and everyone reaps the benefits. This will only last one week. You can try this "blind deck type" challenge right now in friendly battles. It's lots of fun, and lets players select half of their deck only. The more the clan as a whole wins, the bigger the reward. Practice now and get ready for the challenge on the 19th.
Jungle Arena
A brand new Arena will be released early next year on January 13th. It's called the Jungle Arena. It will unlock at 2600 trophies, and be a good middle ground for those trying to get above the Frozen peak and into Legendary.
A few videos have surfaced online, and Supercell confirmed it themselves on Twitter. Check out their feed for tons of additional details. There is gameplay footage of the new arena and all upcoming cards.
Four New Troops
Before December comes to a close the new Electro Wizard will arrive. However, on January 13th another card will be released called the Goblin Gang. It's three spear gobs and three stab sword gobs. Then, every two weeks another card will be released. Rather than keep it a secret only for leaks to happen, they announced everything this week.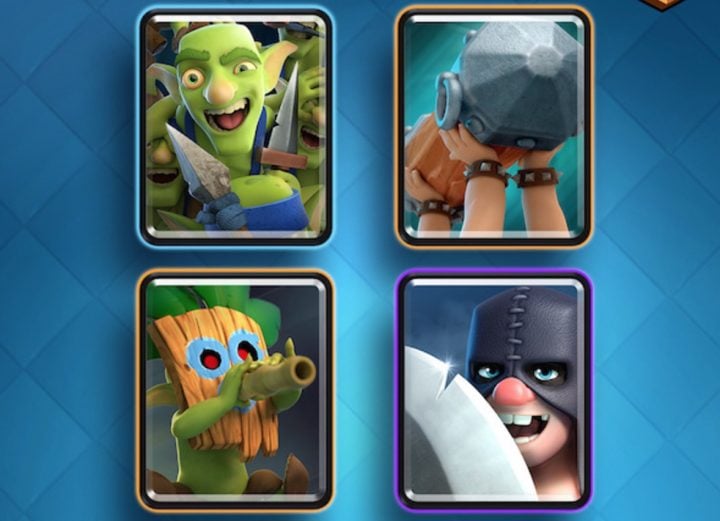 After the Goblin Gang is the Battle Ram for 4-elixir. It will take down buildings of any type, and after it crashes spawns two Barbarians. Perfect for hog rider pushing. Next is the Dart Goblin, a poor mans Princess. It's stronger but shoots one dart at a time, and isn't a legendary so everyone can get one.
Last but not least is the Executioner. He's like a Wizard or Valkrie, who throws a boomerang-style axe out that hits each target twice. Once on the way past, and another on the way back. Perfect for swarm attackers. More information can be found here.
Other Clash Royale Update Details
We're also hearing there could be Christmas themes or special offers, not to mention a new Chest in the game. There aren't too many details on that yet, so wait and see.
In closing, it's worth mentioning that this is a big update that requires the game to change. As a result it won't happen behind the scenes like most upgrades. Instead, all players need to download the latest version from the app store. Otherwise you can't play. So get it now. Keep note of the changes as you build a deck, and be on the lookout for some unique and challenging decks for the rest of the year. Then, even more starting January 13th and beyond. Are you excited for these new troops and cheaper Epic cards? Let us know in the comments below.

As an Amazon Associate I earn from qualifying purchases.