Clash Royale Update: What You Need to Know
This week an important Clash Royale update was released adding major changes to the game, and refining the entire experience as the international and Android release date nears. Here is what players need to know about the latest Clash Royale update.
We know Clash Royale is coming to the US and throughout the globe sometime soon, during the month of March, and that includes Android. It's been in a limited beta since January on iOS, but that will soon change. Today though, ahead of the global release, Supercell pushed out a huge update to refine the game before making it available for all.
Read: Clash Royale Release: 3 Things We Know Right Now
As many probably know, Clash Royale is a spin-off of the hit sensation mobile game Clash of Clans. Made by the same developers at Supercell, with many of the same characters and troops, only with a different play style. It's more of a card-collecting and turn based game. Late last night an update arrived with loads of changes everyone should know about.
Clash Royale has been getting more and more popular as of late, especially as users play it, updates improve everything, and a global release for all nears. We know the release will be in March, but that's the only word we have for now. Some reports suggest mid-March, so just a few weeks, but we'll have to wait and see.
That being said, before the game is released around the globe and for Android, Clash Royale needed a few updates to improve everything. That's exactly what happened last night. A massive update added new cards, new arenas, battle decks for better organization before battles, magical chests, new languages and more. Here's the full changelog right from Supercell.
SIX NEW CARDS
New Common Card: Royal Giant
New Rare Card: Three Musketeers
New Epic Cards: Dark Prince, Poison
New Card Rarity: Legendary…
NEW ARENA, CHESTS & MORE
Arena: Builder's Workshop (unlocks at 1700 Trophies, moving the Royal Arena to 2000)
Chests: Giant Chest and Super Magical Chest
Deck Slots: Save multiple Battle Decks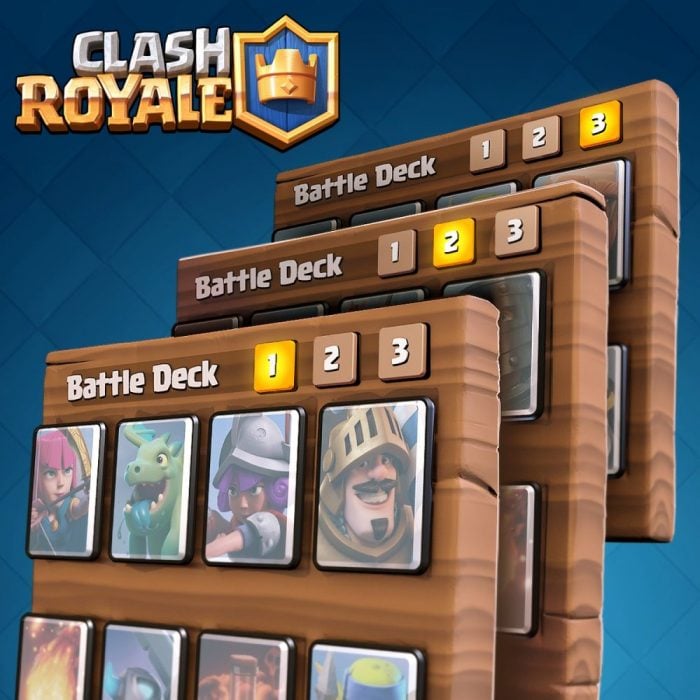 EVEN MORE NEW STUFF
Training Camp: Opponents scale up to 3500 Trophies
Localization: 14 new in-game languages (French, German, Spanish, Italian, Dutch, Norwegian, Portuguese, Russian, Turkish, Traditional Chinese, Simplified Chinese, Japanese, Korean, Arabic)
(iOS) 3D Touch: Gives quick card info
BALANCE & OTHER CHANGES
Card Balance: We've re-balanced a bunch of cards, check out the Balance Changes in Context to find out more
Replay Controls: Show and hide replay controls by tapping the screen
Area Damage: Troops and buildings that deal area damage won't stop their attack if their target dies during the attack animation
Mirror: Fixed to correctly cost your previous card +1 Elixir
As gamers can see above this latest Clash Royale update added a ton of improvements, content, troops and more to get the game ready for a global release. There are new troops like the Royal Giant, Three Musketeers, a Dark Prince and more.
The Builders Workshop now opens at 1,700 trophies, and the Royal Arena has been moved to 2,000 trophies, which players earn by winning battles. Above the image also shows three battle decks, allowing gamers to have three custom "armies" if you will, to use at any given moment all pre-made and ready for battle.
Read: Clash Royale: 5 Things You Need to Know
This huge Clash Royale update also integrated Apple's 3D Touch feature, 14 new languages for the impending release date around the globe and for Android, overall gameplay balances to make things more fair, and the popular replay feature everyone loves in Clash of Clans has been improved with better controls and the option to hide them.
Overall it looks like this March 1st Clash Royale update is a big one. Rolling out for iOS right now in select markets where the game is available. Changing many aspects, leveling things out, refining all the controls and decks, then adding languages just in time for the global release date. Now that this latest Clash Royale update is live, we can expect some sort of announcement regarding the official release date to be up next. Stay tuned for more details.

As an Amazon Associate I earn from qualifying purchases.