ClashCon Live Stream: How to Watch & What to Know
This weekend, specifically starting early on Saturday October 24th, the first even ClashCon will kick off. A huge event where Supercell, the developers of the hit sensation mobile game Clash of Clans will start teasing the next Clash of Clans update, give away free gear, show gamers how to attack, build better bases, and even have live tournaments. Below is everything you need to know, and how to live stream the event.
For months we've been expecting a huge update to Clash of Clans. Then a decent update arrived in September with lots of changes. However, we're still expecting a major update later this month. Either right before ClashCon, or shortly after it ends this weekend. Users will want to know all the details, and we'll be covering ClashCon, the update and more all week long.
Read: October Clash of Clans Update: What to Expect
While we're still unsure about what exactly is coming in the next major update, which we're hearing will be this weekend or around ClashCon, we do know what to expect from the event itself. Below are a few additional details for those curious about learning more about one of the most popular mobile games on the planet.
For starters, this morning Clash of Clans received a small "Halloween" update that changed a few things, but this isn't the big update coming later this week. So don't worry. This morning a small maintenance break added a Halloween Cauldron (little pot of poison) that enemies will have to walk around, and they can be removed if users would like. It costs 25,000 elixir, and you'll receive 75k for removing it. Last year were Halloween Headstones, and I still have two I never removed. I'm collecting them, and Christmas trees.
The Clash of Clans update today added the Halloween theme, sound, and splash screen at startup, enabled the Cauldron to appear on maps, and added a 1 gem boost for spell factories. However, you are here for ClashCon, and we'll talk about updates later today.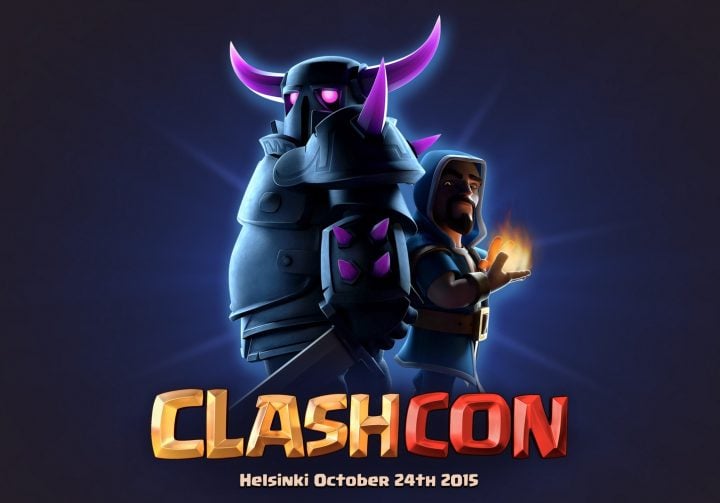 The hosts of Clash of Clans, along with multiple game developers and CEO of the company, will be two extremely popular YouTube Clashers many gamers are familiar with. The hosts will be Chief Pat and Galadon. The two will be talking about everything going on, live on the air from the Clash website, YouTube, and live on Twitch.
ClashCon officially starts Saturday October 24th at 12:15 Helsinki Time, which is (GMT+3). For those wondering, that's 5:15 AM ET and 2:15 AM PT for those on the West Coast in the United States.
We're expecting the update to be one of the first things announced as soon as ClashCon gets started, so an update and official announcement could be revealed around 12:15, or 5AM ET in the United States. Most likely the first hour is when it will be revealed, but we'll have to wait and see. Typically Supercell has teasers on its official forum, but so far nothing is being shown. Once the maintenance break starts, you'll know it's coming.
We'll add links to the actual live stream as soon as they're available. Or just click here to watch it on the Clash Website, YouTube, or Twitch.
As you can see above, the event officially kicks off at 12:15 local, or 5:15 AM ET. We're expecting the announcement regarding the update during the first hour or so, and it to be a main area of focus during the entire ClashCon event.
The CEO will take the stage along with the Clash team to talk about it, reveal everything, answer questions and more. Then, looking at the schedule above, die-hard Clashers will want to tune in for lots of exciting information.
Activities on-site will be taking place like 5vs5 Clan Wars, tournaments, and tons of panel discussions. Clashers will explain how to make a good clan, how to build the best base, teach players how to attack, how to win Clan Wars and much much more. This will all be very beneficial to die-hard gamers. Most importantly how to 3-star bases with something called GoWipe or Lavaloon attacks. That's Golems, wizards and pekkas and a jump spell to take down Towh Halls, or using Lava Hounds to distract air defense and deploying 20+ balloons and raging your way through a base to destroy it. If you've been looking at ways to improve your game, you'll want to watch these workshops and how tos live as they're explained all day Saturday.
Everything from Clan War tournaments right on stage, Clan War Finals, War strategies, and more. They aren't just talking about big stuff, workshops will cover TH7-10 for average players as well.
Basically there will be information for advanced Clash of Clan players, or even beginners looking to build a better base and get more involved into one of the most popular games for mobile devices.
All said and done though, all we really want to know is what's coming in the October ClashCon update. We've been hearing TH11, new daily goals or "Quests", another dark elixir troop, possibly a third hero, and much more.
We've also been told SuperCell wants to add a "game-changing" aspect with this update, something that will attract millions more people to try the game that otherwise haven't. What this means is something major is coming, and coming soon. Expect all the details to arrive over the next few days, or live on stage come Saturday morning. Stay tuned for more details.

As an Amazon Associate I earn from qualifying purchases.