Clean Up Your Android By Starting From Scratch Or Monitoring Apps
Since folks are in spring cleaning mode now that the northern hemisphere is warming up, now is a good time to consider cleaning your gadgets as well. Not just physical cleaning — though I did cover that earlier this week — but also cleaning things on the software end of things.
Taking a hard look at your Android phone or tablet with an eye toward cleaning out the apps you don't need will help it feel fresh and maybe even give it a performance boost.
You can either go through apps one by one — best if you don't have many and want to know exactly what they're up to — or you can start fresh by retuning your phone to factory settings and re-installing the apps you want — best if your phone is acting all kinds of ugly or is a little older.
I'll show you how to wipe the slate clean completely or how to figure out which apps should stay or go.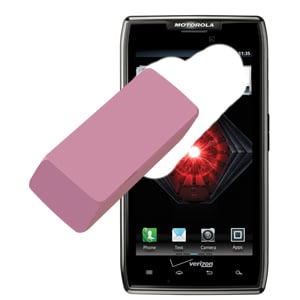 Wipe It Clean
To start again with a clean slate, you'll need to do a factory reset on your Android smartphone. This has some consequences. First, you'll have to reinstall all of your apps, you'll have to go through the settings/set-up for them all over again, and you'll lose some app data, like game stats and the levels you've cleared, for instance. But if your phone is giving you hardcore issues, it's worth trying.
Step 1: Back up your data
Some data you should keep even if you're doing a factory reset, such as any documents you want to keep, your call logs, text messages, pictures, etc.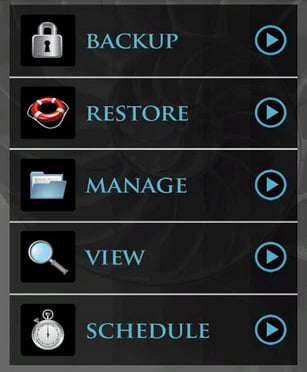 Read this post on backing up Android phones and tablets for detailed directions and which apps to use.
For our purposes, you don't want to back up apps, you only want to back up data and media (to online):
Photos
Music
Documents
Call Log
SMS
MMS
Dictionary
Settings
Your contacts and calendar info are saved in your Google account.
You should also copy the data from the internal memory and the SD card, just in case. If you have an SD card, erase all of the files from it before re-inserting it.
Make a note of all the apps you have installed that you know you want to keep. If you paid for them, you can reinstall them from the My Apps section of the Google Play store. If they're free, you'll need to find them in the Store on your own.
Step 2: Do a Factory Data Reset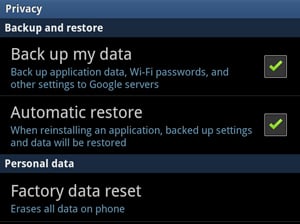 Go to Settings > Privacy. Uncheck Back up my data and Automatic restore (if applicable). This will keep your device from automatically re-installing all of your apps.
Then tap Factory data reset. On the confirmation screen you may be prompted to format or erase the internal/USB storage and/or the SD card. Go ahead and check those if so. Then tap Reset Phone.
The device will shut down and reboot.
(Realated: How To Completely Erase And Reset An Android Phone)
Step 3: Re-install your apps and restore data
Go to the Google Play Store, then My Apps. Here you'll find a list of all the paid apps you bought, ready to re-install. As I said, the free apps you have to hunt down yourself. This way you'll get the latest versions of each app.
It's also a good way to get to you re-evaluate the apps you had on your phone. You won't hesitate to install and set up apps you use every day, but may not find it worth the trouble to deal with the ones you haven't used in months.
To restore your data: re-install the MyBackup app and open it. Tap Restore > Data then choose the latest backup and enter your PIN and password. It will only take a few minutes.
Clean Up Apps One By One
Having to re-install all of your apps can help you weed out the ones you don't need, but if you don't want to go through the whole reset process, you can just go app by app. Aside from getting rid of apps you don't use, it's also a good idea to take a close look at how many resources your apps are using up.
Recently researchers found that free Android apps were using a lot of battery power and a not insignificant amount of data even when they weren't in use. This is mostly because of the ad networks the apps utilize that makes them free in the first place.
(Read: Apps With Ads Killing Android Phone Battery Life)
Regular users can't get the monitoring app those researchers used, but there are a few that can give you helpful stats and information.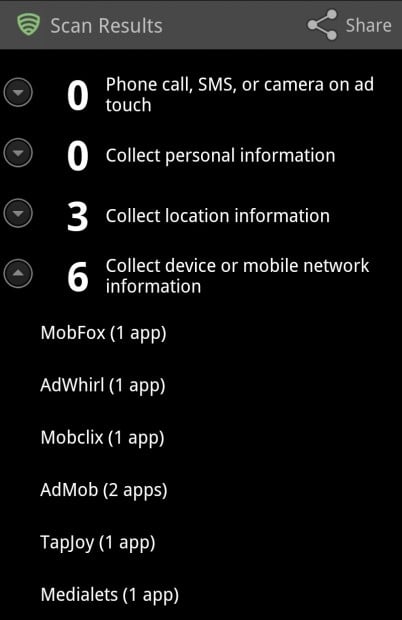 This scans all of the apps on your device and lists all of the ad networks they're utilizing. Then it gives you information on what those a networks are doing, such as what kind of information they're collecting about you. If you don't like what you see, uninstall the app.
You can also upgrade to the paid/pro version, if there is one, to eliminate the ads (and support the developer!).
(Read: Discover the Secrets Apps Tell Advertisers With Ad Network Detector From Lookout Mobile)
Stats junkies will love all the charts and graphs this app provides, but the main reason I'm including it here is because it will monitor the CPU usage of individual apps over the course of a week. If your droid is slowing down and you don't know why, this can provide some insight. And once you know which apps are doing what, you can better determine if you should keep or kill them.

This article may contain affiliate links. Click here for more details.