Come Experience the Galaxy Tab With GBM at the Reader's Meetup in San Francisco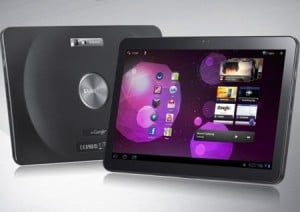 If you're a native of San Francisco, California or live in the SF Bay Area, you are cordially invited to join GBM and our friends from other non-affiliated blogs in a reader's meetup in the city by the bay to experience the Galaxy Tab 10.1 live in person on Friday, June 3, 2011 between 7 to 10 PM. Touch, feel, be dazzled by Android 3.1 Honeycomb, and chat and mingle with Samsung Mobile executives.
You'll be joining GottaBeMobile, Android Community, SlashGear, IntoMobile, BetaNews, and NetShelter for a chance to one of five Galaxy Tab Android tablets or one of 40 Samsung Galaxy S smartphones.
As a very influentual person in the tech community, come share with us your insights on the latest mobile trends, your ideas and opinions, and spend some time with the yet to be released Galaxy Tab 10.1 tablet! Come and experience the Galaxy Tab 10.1 before it's released–the tablet will be officially available to the public on June 8th.
For more information about this event–which is free to the public–visit the Eventbrite page to register. Remember to sign up early as there are only a limited number of tickets to the event. I look forward to seeing our dedicated readers of GottaBeMobile who reside in San Francisco there at the event!
Event details:
Who says good things come to those who wait? Because you're a Very Influential Person — that's why you've been directed here — you're invited to be among the first to try out the brand new Samsung Galaxy Tab 10.1 – weeks ahead of its availability in stores. Get up close and personal. Come to our VIP Preview — hosted by the expert bloggers who've been keeping you abreast of the Tab's march into the market. Along with getting to touch the Tab 10.1, you'll also be able to chat it up with Samsung executives.
Oh yeah, by attending, you'll have a chance to win one of five Galaxy Tabs or one of five other Samsung Galaxy S smartphones. That's a one in 40 chance of taking home a top-of-the-line Samsung product. Food and refreshments provided. All ages welcome. Act fast. The doors are open to the first 400 people who sign up.
When: 7- 10 p.m., Fri, Jun 3, 2011
Where: TBA
Your Hosts: