Coolest Cars and Trucks from SEMA 2019
These are the coolest and most over-the-top cars and trucks we saw at SEMA 2019. Every year auto enthusiasts take over Las Vegas for the annual Specialty Equipment Market Association tradeshow (SEMA, for those unaware), and this year we saw a little of everything.
While the showroom floors and smokey burnt-rubber streets had a decked out Jeep Gladiator, Mustang, Toyota Supra or a truck with a roof-top-tent on every corner, that's not all we saw at SEMA 2019. Yes, Gladiators were everywhere, but that's just one of several beautiful machines.
This year's show featured over 3,200 products on display from 2,400 exhibitors or companies and took over every square foot of the Las Vegas Convention Center. Things like Nissan's wicked new off-road truck, performance vehicles, weird stuff, conversions, hot-rods, and more. Every few feet there's something amazing to see. Here are some of our favorites.
American Expedition Vehicles Prospector XL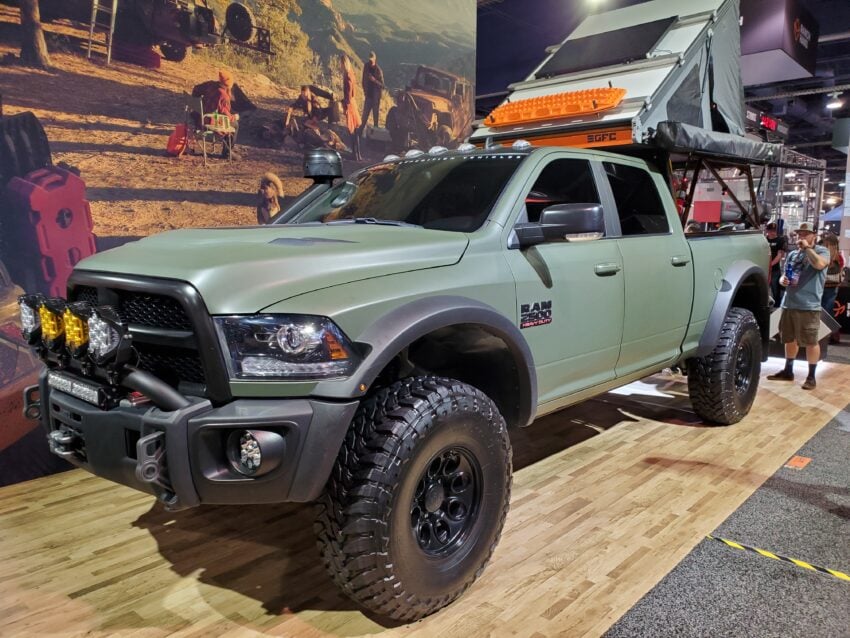 The AEV Prospector XL is a heavily modified Dodge RAM built to handle anything and everything. And, as you can see from this picture, it probably can. Rocking a Go Fast Camper, Baja Design LP9 lighting and more, this truck is built to explore. Follow the owner on Instagram at @Fotornr.
2020 Jack Roush Edition Ford Mustang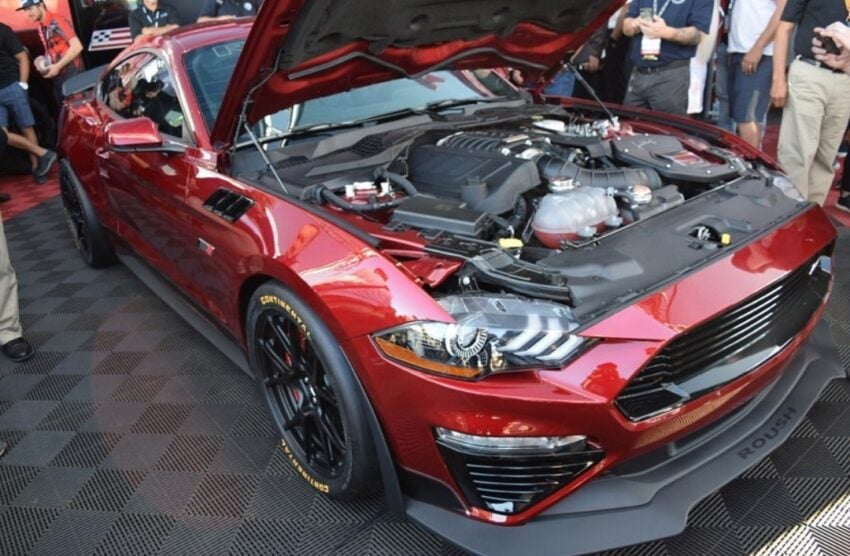 This picture doesn't quite do it justice, but this week Ford announced a very special edition 2020 Jack Roush Edition Mustang with more power than the GT500. Yes, 775 horses are under that hood. Unfortunately, there were far too many people around it to take photos, and they'll only offer 60 in the United States anyway, so it's a rare car you won't see often.
Custom Chevrolet Dually
The SEMA showroom floor has some amazing vehicles and products on display, but if you wander out into the parking lot you can find even more. Unfortunately, not everything you find will have information to go with it. Like this stunning jacked up Chevy. It's looooong, to say the least.
SmittyBilt Ford Tank X-RC Gen 3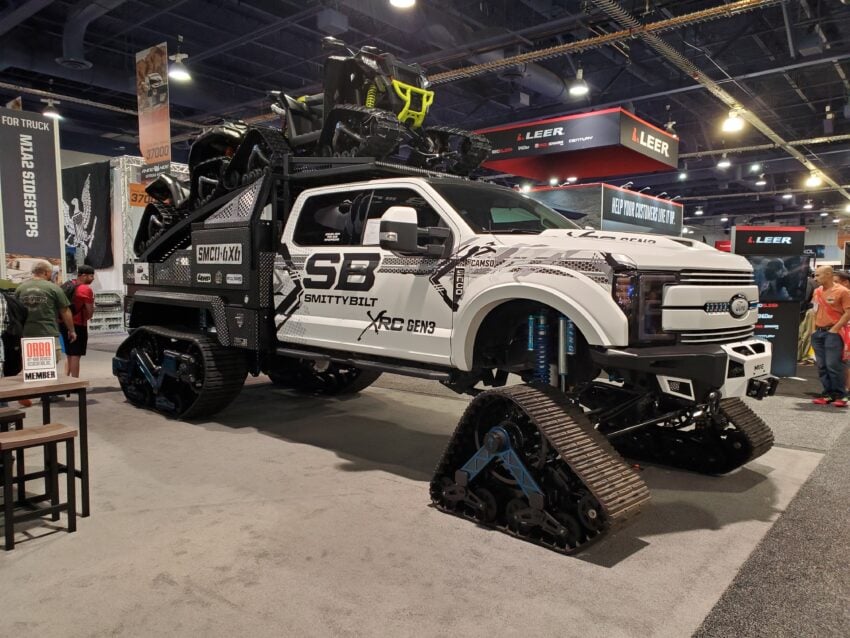 Speaking of long trucks, check out this custom-made Ford truck that's more of a tank than anything. This unusual beast is actually highlighting SmittyBilt's new XRC3 winch, which has a lot of pulling power, but we doubt this thing will ever get stuck with all those tracks.
Jay Leno's Beautiful 1968 Ford Bronco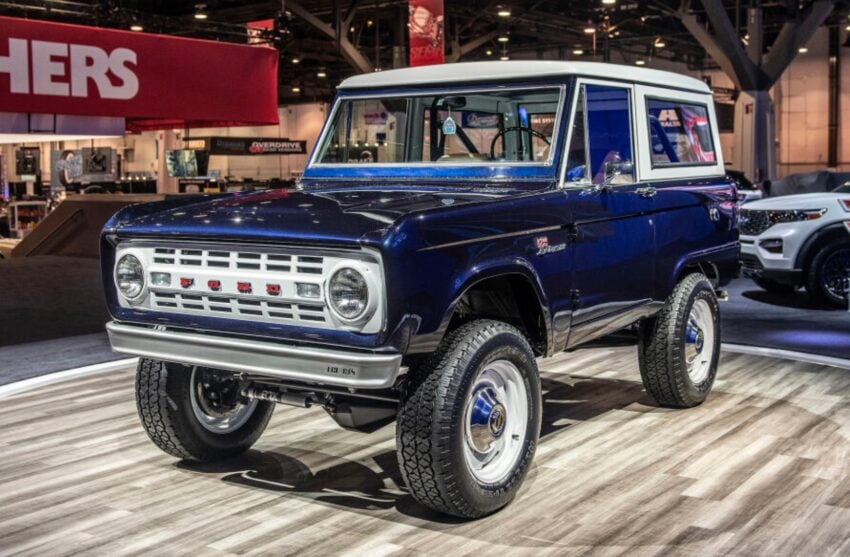 Jay Leno has a massive car collection and probably a few different vehicles scattered throughout SEMA. However, this stunning GT500-powered 68 Bronco caught our attention. It's simple, clean, and elegant.
2018 GMC Yukon K5 Conversion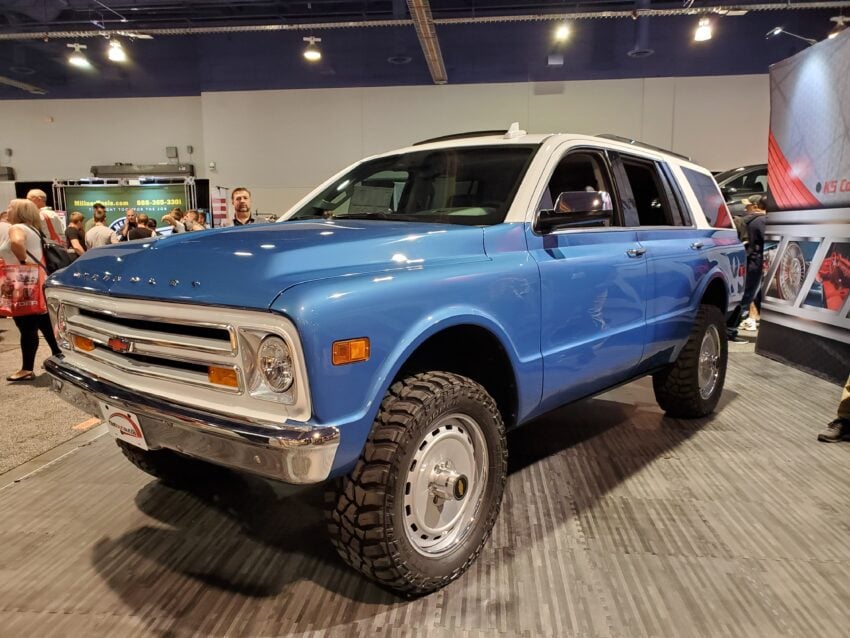 What you see here is an old-school Chevrolet K5 Blazer combined with a 2018 GMC Yukon. It's one of the most unique things we saw at the show, and certainly a head-turner. Perhaps the best part, aside from those wheels, is how well the dash and hood blend in with the interior. This was beautifully crafted.
Ruffian Ford Mustang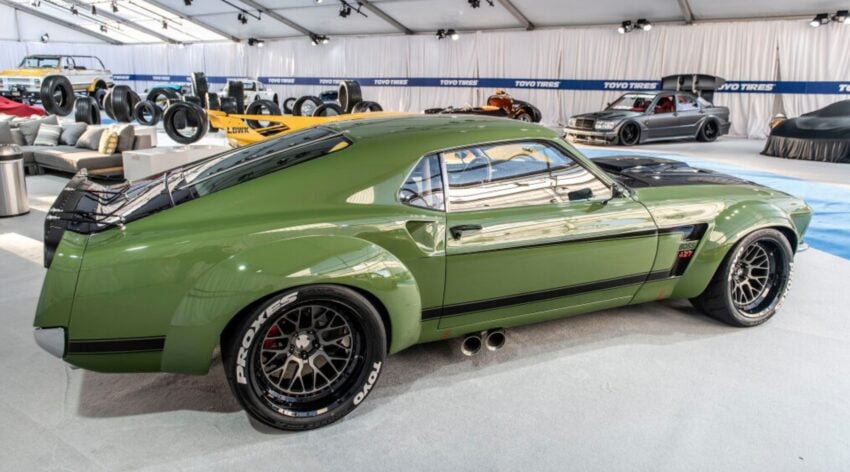 Wandering through different rooms and halls you quickly realize there's something for everyone at SEMA. I also quickly realized that I wish I had as much money as Jay Leno. If so, I'd buy something like this Ruffian Ford Mustang.
Toyota Tundra from the Paradise California Fires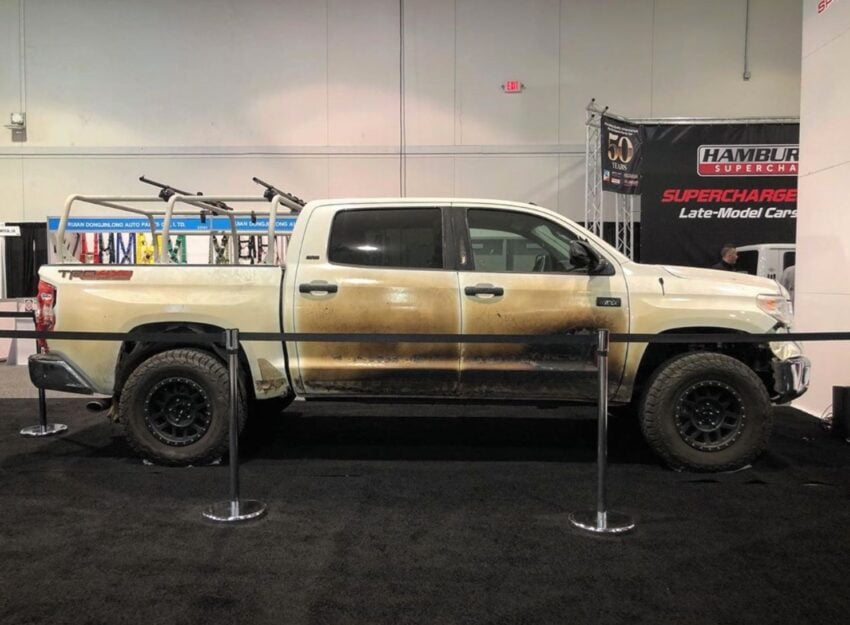 One of the many heroic stories from the Paradise, California fires from 2018 surrounds this Toyota Tundra and the owner Allyn Pierce. It's hard to tell from the photos, but this RN who worked at the local hospital drove through the fires, then back into the flames to help stranded people to safety.
You can see the burn marks on the doors, obviously, but a closer look or a glance at his Instagram account shows the headlights and bumper were starting to melt away, and his taillights look like silly putty. Better yet, this hero got a new truck from Toyota USA, tires from BFGoodrich, and his story lives on.
Lamborghini Huracan V8 Twin-Turbo Special Widebody
Any Lamborghini is already special in its own right, but this custom V8 twin-turbo with an extra-wide body sure was pretty. Unfortunately, everyone else thought it was amazing and I got ran into every time I tried to take a photo, so they're a little blurry. Too bad we couldn't hear that engine or those turbos.
Nikola NZT Electric Off-Road Vehicle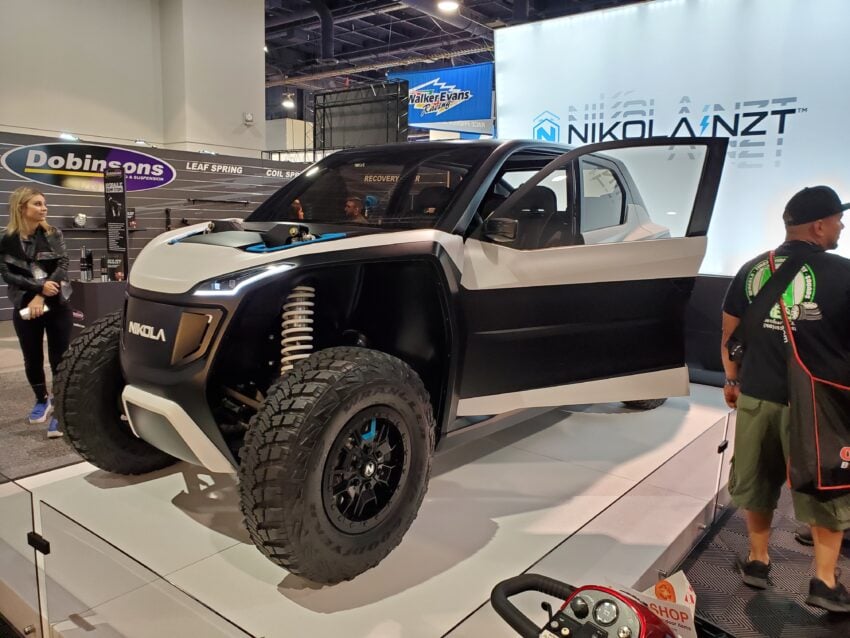 While Tesla, Rivian, and a bunch of other players are all fighting over the electric car space, and for headlines, this Nikola NZT sat front and center at the beginning of South Hall at SEMA 2019 by itself. And as you can see, it's pretty fancy.
With Fox 3.0 bypass shocks, a 13-inch touchscreen display inside, 590 HP, 775 ft-lbs of torque, 0-60 in 4 seconds and a range of 150 miles this off-road vehicle is incredible, and I want one.
Spiderman Buggy and Robert Downey Jr.
I don't know much about this Spiderman-themed vehicle, or what it has to offer, but I did manage to spot Robert Downey Jr walking around. RDJ gave me a fist-pump and seemed like a nice guy. I had also just found a SEMA booth giving out free beer, so I was a bit distracted from the booze and Ironman.
Nissan Frontier Desert Runner with 600 HP
Next up is a truck that Ironman would probably drive if he drove a truck, instead of all those supercars. This special edition Nissan Frontier Desert Runner rocks a manual transmission V8 from a Nissan Titan, packs over 600 horsepower, and is sporting some pretty wide fiberglass fenders on the front and the back.
This is a custom design built for SEMA 2019, but we wish Nissan would consider offering something similar to this to compete with the Ford Raptor and Toyota TRD Pro lineup. Especially with those KING Triple bypass shocks in the back.
KING Shocks Are Beautiful
If you're into desert racing, off-roading, or just performance parts on your truck, KING shocks and suspension is a brand everyone should be familiar with. KING was under that Nissan truck above, and we saw them scattered throughout the SEMA floor on some of the best vehicles this year.
This isn't a truck, but the display of parts at the KING booth sure are pretty and make me want to upgrade my Toyota Tacoma.
Custom Off-Road Buggy Conversion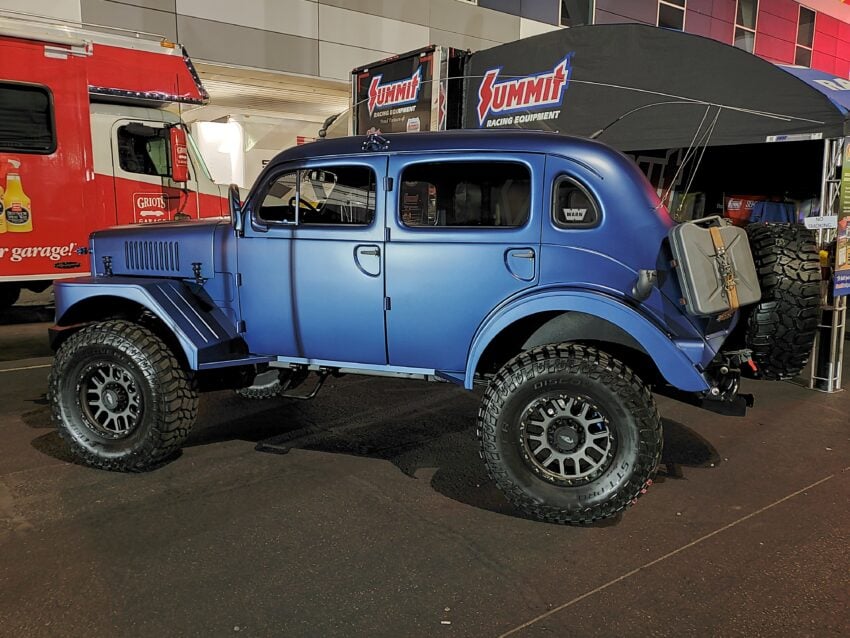 Some of the best vehicles at SEMA aren't in the building, but instead, they are in the parking lot without a lot of information to go on. After-hours as I wandered back to my completely average and pedestrian-vehicle, I found this thing. Is that a VW Bug, part PT Cruiser? I'm not really sure but it's awesome.
1970 Plymouth Barracuda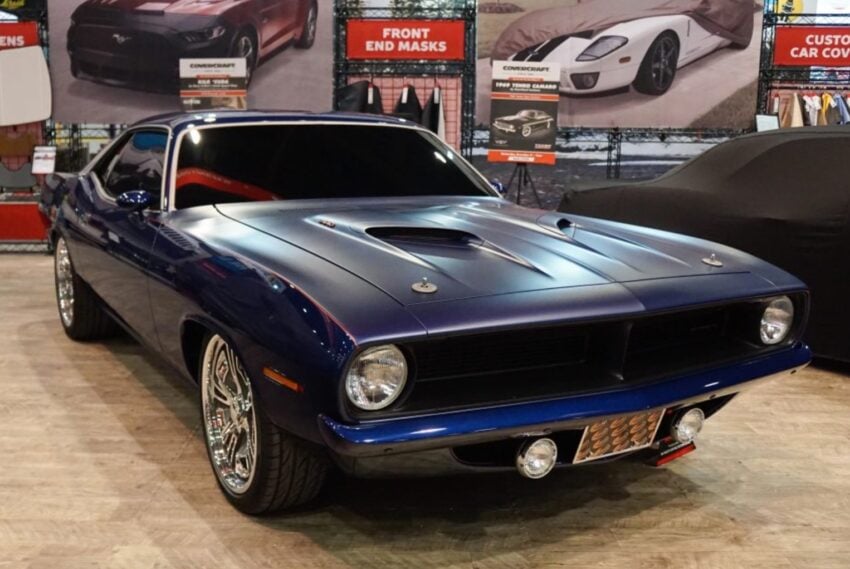 Not everything at SEMA is overboard, over-built, or covered in custom add-on parts. Sometimes, just sometimes, you see a beautiful 1970's Cuda that makes your heart melt. This was one of those moments and you can learn more right here.
Kincer Chassis Ford Bronco
If one of your dream projects is to restore a classic Ford Bronco into a beautiful machine, Kincer Chassis might be your answer. On display at SEMA 2019 was this rebuilt Midnight Black Bronco. That soft-top sure looks good, right?
Old Truck from Decked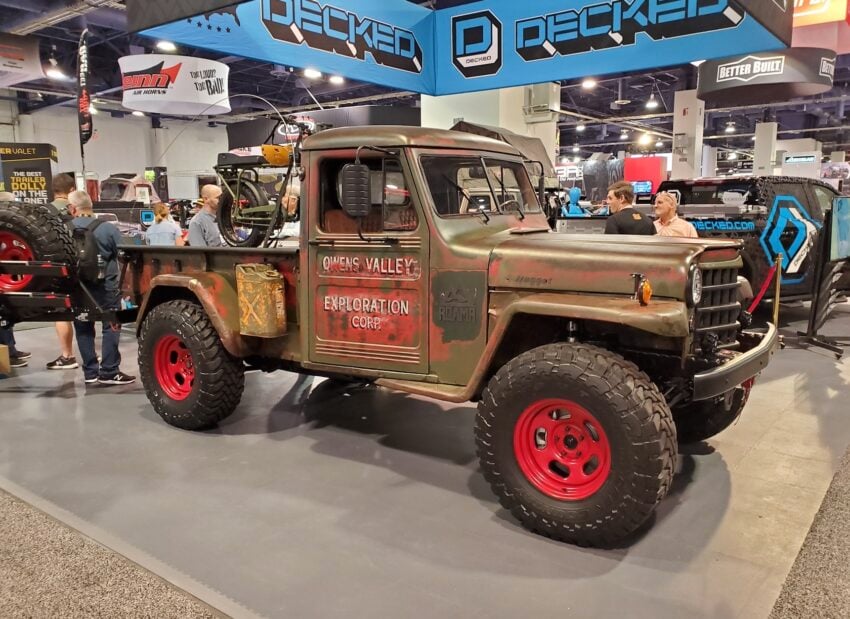 When you're wandering through SEMA it's easy to get overwhelmed by all the vehicles. Some are so unique you forget to find out what it's all about, and instead, just inspect how they built it and marvel at the design. That's what happened here, with this unique old truck with a swing-out bumper and a Super 73 motorcycle in the back.
1968 Dodge D200 Mopar Lowliner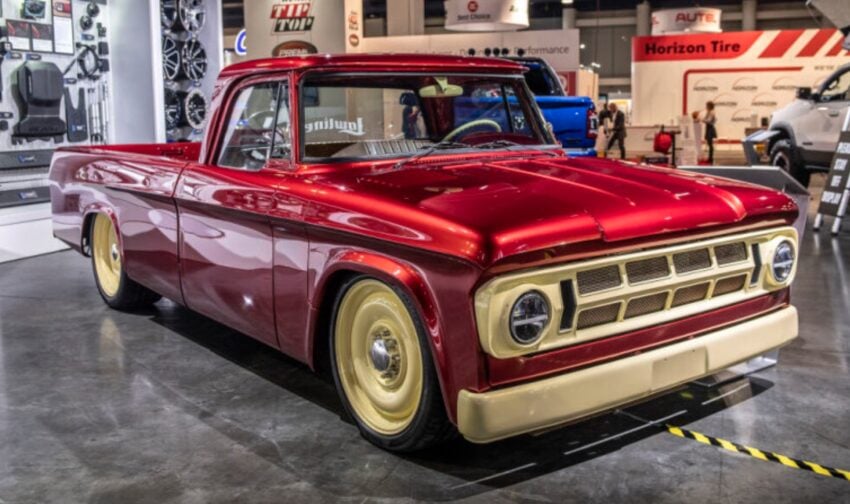 Last but not least is this 1968 Dodge truck that was announced earlier this year. I had to track it down but managed to spot it right before I left SEMA. Dodge custom-built this thing specifically for SEMA 2019 and tossed in a 5.9 L Cummings 24v inline-six engine from an old 2000's RAM truck. Then, added a 6-speed manual tranny and a turbocharger. Combine that all together and this old 1968 beauty puts out 325 horses and around 610 lb of torque. Nice, right?