Cosmonaut: Kickstart a New Stylus for Capacitive Screens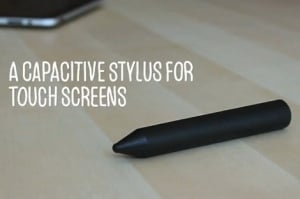 Kickstarter projects I think can best be described as crowd sourced startups. A company announces a new product, takes pre-orders (or "investments") and eventually comes out with the product or project. It's not just for gadgets, its for all sorts of creative ideas. There's a time line attached to the when the amount necessary has to be raised, so you say it in some way is the law of the market at work.
Well, the folks at Glif, who successfully launched one of these projects last year for an iPhone 4 tripod attachment are back with another project and this time it is a stylus for capacitive screens. At the moment you can say it is for the iPad, but we'll pretend that "hated stylus" might actually be useful on other capacitive touch screen devices in the future.
They are looking for $50,000 to get the project off the ground, and apparently they've already raised just short of $20,000 of that. But they are doing it in a unique way this time. Instead of a set amount required from donors/pre-orderers they have adopted a pay-what-you-think-it-is-worth model. Word is they expect the Cosmonaut to retail around $25.00.
The stylus is called the Cosmonaut. It's described as a wide-grip stylus and takes its cue more from a marker than a pen. Actually the Glif folks say a dry-erase marker. I'm guessing they haven't tried out some of the Apps that have adopted some sort of wrist-protection or palm-rejection because they seem focused on low fidelity inking, although from the video the Cosmonaut seems to do as good a job as some of the other styli currently on the market.

As an Amazon Associate I earn from qualifying purchases.