Could a Unibody Ceramic Enclosure Make Its Way to 2013's Budget iPhone?
With Apple rumored to be releasing two new iPhone models this year, a budget entry-level model and a flagship iPhone 5S, it is now rumored that the iPhone-maker may be looking at ceramic for the body of the low-cost iPhone model. Rather than the plastic shell that's been previously rumored for an entry-level 2013 iPhone model, Apple's recent patent filing suggests that a unibody ceramic body may be used as the casing for this model.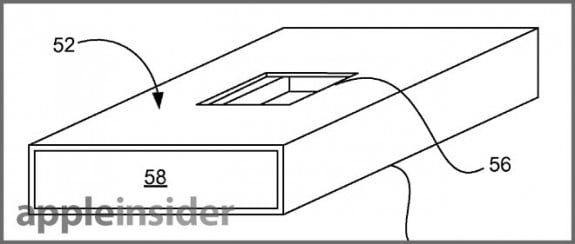 Ceramic isn't a new material used in smartphone design. In the past, HTC had used ceramic on its HTC One S smartphone by applying a high voltage charge of electricity to an aluminum shell.
And rather than extruding the ceramic like that found on an earlier 2006 patent filing, where a block of ceramic would be machined out to form the case similar to how the machining works for the unibody aluminum iPad and MacBook lines, Apple may be looking at layering sheets of ceramic to create a hardened shell.
This layering technique would be similar to how fiberglass shell is fashioned. And given the similarities of building the unibody ceramic casing by layering to how fiberglass cases are made, analyst Ming-Chi Kuo had last month predicted that Apple may be turning to fiberglass for its next iPhone.
And according to the patent filing, this process is used for a "handheld computing device," according to Apple.
[…] the housing 52 can be formed of multi-layered (i.e., laminated) ceramic materials that are strong, stiff, and radio transparent and therefore a suitable material for an enclosure of an electronic device capable of wireless communications. The radio transparency is especially important for wireless hand held devices that include antennas internal to the enclosure.
The unibody casing could also have a seamless enclosure, similar to what's being done on the iPhone 5 and what HTC is doing with the zero-gap construction process for the HTC One.
According to AppleInsider, the patent was initially filed in 2011.
And ceramic may not be the only  new material Apple is exploring. A recent report suggests Apple is creating a wrap-around iPhone with an AMOLED display, perhaps using flexible AMOLED and curved glass technologies.
The low-cost iPhone model could cost as little as half of what the flagship iPhone 5 costs today and will still deliver up to a 40 percent profit margin for Apple, according to a Credit Suisse analyst.

As an Amazon Associate I earn from qualifying purchases.