Customizing Your Character in Assassin's Creed Unity Is Crucial
Customizing Arno, the character that players will assume in this year's Assassin's Creed Unity, will be absolutely crucial to success in the game's multiplayer. At least, that's what most will take away from a new Assassin's Creed Unity trailer posted earlier today.
In this new Assassin's Creed Unity trailer Alex Amancio takes us through the character customization experience, and it's a bit different from what you might imagine. Character customization won't be something that users can do in the traditional sense that they build their own member of the Assassin Order from the ground up. Complexion and facial expressions aren't something that players can change.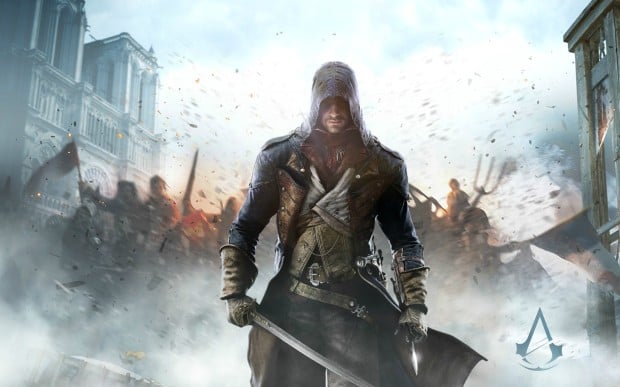 As the trailer shows off, customization in Assassin's Creed Unity will be all about building out the character that's already featured in the game. In Assassin's Creed Unity even the clothes that Arno wears will be in important. With certain types of hoods and jackets players will find that they blend into their surroundings a bit easier. Meanwhile, other uniforms and sets of armor will make Arno more resilient but slow him down.
In introducing these customizations in co-op missions Ubisoft, who is developing the game, is counting on user creating characters with different specialties. In this manner, Ubisoft is sort-of introducing classes into the Assassins' Creed universe. These changes being tied to co-op means that users can create their own team of assassins that complement each other's strengths. Choosing between different active skills will also let Assassin's Creed Unity players create characters tailored to their strengths.
In Assassin's Creed 4: Black Flag users could customize their character with an assortment of robes and weaponry. That being said, wearing different cloaks and hoods didn't have any real effects outside of looking different from every other assassin. Users will be able to choose from different chest pieces, hoods and more.
As far as weapons are concerned, Assassin's Creed Unity has that too. In this game users will be able to choose from a huge assortment of weapons. Earning money in the world will allow players to spend more on upgraded weapons that are specific to their play style and type. This system isn't new, but it does seem to be hugely expanded from prior games. In the trailer we see dozens of swords alone.
With all these custom skills, clothing and weapons, Assassin's Creed Unity is starting to look less like a third-person action adventure game with multiplayer tacked on and more like a hybrid online multiplayer that also has a story mode. Those who want the game for the story will get their needs met, but this co-operative mode is looking more like it's the real reason to pick up Assassin's Creed Unity when it arrives on store shelves.
Watch: Explosive New Assassin's Creed Unity Trailer Shows Co-Op Mayhem
Assassin's Creed Unity is expected to be one of the highlights of owning a current-generation console this holiday season. It'll launch at a time when some other high-profile current-generation games have been delayed into 2015 and beyond. Assassin's Creed Unity is expect to heavily boost sales of the Xbox One and PS4 too. It'll be one of the only franchises releasing a new game that's not also available on older consoles like the PS3 and Xbox 360.
In showcasing why it's only available for next-generation console Ubisoft has released videos revealing some serious upgrades over past games. For the first time players will be able to climb down from buildings and high places. Ubisoft also revealed that users can expect to move in and out of different areas through the city of Paris without having to sit through loading screens. That was a big problem for past games. Potential buyers should note that Assassin's Creed Unity will be the first console game in the series in two years to not include naval combat. For that users will have to pick up Assassin's Creed Rogue for the Xbox 360 and PS3.
Assassins Creed Unity is available for pre-order now for $60 from GameStop. The game launches on the Xbox One and PS4 in the United States on November 11th. You can check out more high-profile games to pick up for the Xbox One below.
5 Xbox One Games to Buy in 2014
Call of Duty: Advanced Warfare
This year's edition of Call of Duty, Call of Duty: Advanced Warfare, promises to be a huge departure for the series. To be clear, players objectives for the most part remain the same. Players will still be tasked with killing the enemy as fast as they can. That being said, Sledgehammer, the game's developer, has put its own stamp on the franchise.
This year's game will come loaded with strange new gadgets. There's a new directed energy weapon for when you really need to take down an opponent with just one shot. New weapons will also give players the ability to temporarily see through walls when they need to. This being a game about war from the future, there's also plenty of outlandish flying vehicles and exoskeletons that gives players the ability to climb walls and super strength.
Read: Amazing Video Shows Cool Gadgets Coming in Call of Duty: Advanced Warfare
Call of Duty: Advanced Warfare launches on November 4th. It'll be available on the Windows PCs, the PS3, the PS4 and the Xbox 360 in addition to the Xbox One. Xbox owners will get access to special downloadable content before anyone else.

This article may contain affiliate links. Click here for more details.