How To Ease the Pain of Daylight Saving Time
Daylight Saving Time is this weekend, so you will need to Spring ahead and move your clock forward an hour. This means you will lose an hour of sleep and it can be a rough week when you do this. We're here to help you with the best apps to help you survive Daylight Saving Time in 2019.
We don't use Survive lightly. Moving the clock ahead an hour in the Spring is linked to a 24% increased chance of a heart attack on the Monday after, another study found that the risk for a stroke increases by 15% on Sunday and Monday following the time change and car crashes are up 9% during the Spring time change. These stats come from the BMJ Journals, Science Direct and the New England Journal of Medicine, lest you think we're exaggerating the issue.
Apps to Help You Survive Daylight Saving Time 2019
Losing an hour of sleep this weekend is a major issue, but you can use these apps to get back into a better sleep pattern or to use the time jump as an opportunity to jump ahead in other areas of your life.
SleepScore App
The SleepScore app tracks and analyzes your sleep patterns to help provide science backed advice for getting a better night of sleep. The team has compiled a free strategy guide to help you avoid the pain of losing an hour of sleep.
You can sign up for this guide free from SleepScore and you can also download the SleepScore app for iPhone or Android to start getting a better night of sleep through tracking and actionable advice. You can even use a SleepScore app to find out if you snore or grind your teeth at night.
Sleepzy
The Sleepzy app can help you wake up easier after losing an hour of sleep in the Spring. The app tracks your sleep through the night using your phone's microphone and it knows when to wake you up when you are in a light phase of sleep.
This will help you wake up at a better time on Sunday, Monday and throughout the week after the time change. Smart alarm clocks like this can really help the wake up process, so it's something you should check out to deal with the time change. Download Sleepzy for iPhone.
Productive
Spring into a more productive you with the Productive app. This app helps you plan out your day and helps you stay motivated by tracking streaks of workouts and other tasks to help you stay motivated even when you're feeling sluggish from losing an hour of sleep.
You can schedule tasks for daily, weekly or monthly reminders, pick specific days and even choose what time of day to do that activity. It's a smart scheduling trick that can help you stick with a habit. Download Productive for iPhone.
The Best Budget Apps for 2020
Mint Budgeting App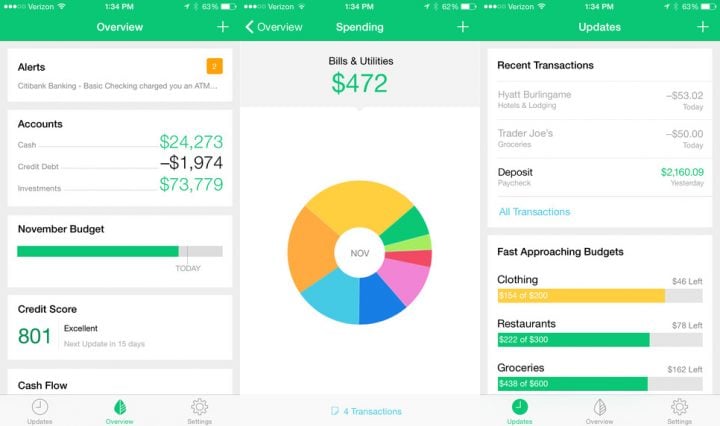 Mint is one of the best budget apps because it takes the hassle out of making a budget. You connect the Mint app to your bank and the app can use your details to help create a personalized budget. We love this budget app because it can help you quickly identify where you are spending your money, so you can see where to trim your current expenses as you make a budget.
It's a very easy app to get started with, so you can take the hassles out of starting a budget for 2020.
The Mint app uses the same security as banks and the team behind this service also makes TurboTax and Quicken, so you can trust that they take all possible steps to secure your accounts and your data.
Mint will send you alerts to unusual charges and helps identify tips customized to your spending that can help you reduce the money you spend on fees and on other bills. Mint also includes your credit score, so you can see a big-picture view of your budget and your personal finances. The base subscription is free, but there is an optional in-app purchase of Mint Live for $24.99.
With the Mint apps for iPhone, iPad and Android you can see your budget anywhere and there is also an online component to look at from your computer and a bill pay component to help you manage and pay your bills in one place.

As an Amazon Associate I earn from qualifying purchases.