Dell Streak 10 Pro Poses for Picture Before China Release This Week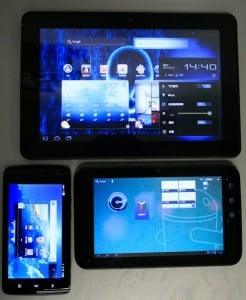 Dell will be rounding out its Android-powered Streak lineup with a 10-inch Streak Pro launching in China later this week. The device was pictured with the 5- and 7-inch Streak tablets and shows that the 10-inch model will be running Android Honeycomb upon launch.
It's unclear if and when Dell intends on making the Streak 10 available in other markets outside of China. For now, the Streak-maker had stated that it will focus its efforts first on China before trying to tackle the difficult U.S. market.
Like other 10-inch Honeycomb slates on the market right now, the Dell Streak Pro will feature a 10.1-inch 1280 X 800 display along with an NVIDIA Tegra 2 dual-core processor. The Streak pro will also come woth WiFi, GPS, a 5-megapixel rear camera, front-facing camera, and 1 GB RAM.
Pricing information is still not known at this time.
Interestingly, the 7-inch Streak, which launched with Android 2.2 on a WVGA display, was pictured also with Android Honeycomb, suggesting that the tablet may get an update to Android 3.2 Honeycomb in the future.
Via: Unwired View

As an Amazon Associate I earn from qualifying purchases.