Dell Streak 7 for T-Mobile: More Miss Than Hit?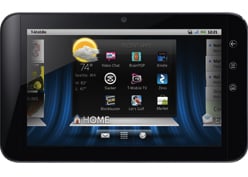 According to Kevin Tofel of GigaOm Mobile who has reviewed the Dell Streak 7 for T-Mobile USA as the carrier's first 4G HSPA+ tablet, the Android 2.2 Froyo slate has a lot of potential, but Dell had not made use of the potential resulting in a device that's more of a miss than a hit.
Like the Galaxy Tab from Samsung that precedes it, the Dell Streak 7 utilizes a 7-inch display. That's a positive, as it adds more screen real estate to a tablet rather than the 3- or 4-inch smartphone display. But it's also a negative as Dell utilized the same WVGA resolution that's found on many smartphones and the company's own Streak 5 for AT&T, which utilizes a smaller 5-inch display. That means things aren't as crisp or clear on the display. In comparison, Samsung had used a 1024 X 600 pixel resolution display on its 7-inch Galaxy Tab.
While the device sports a dual-core processor from NVIDIA in the form of the Tegra 2, Tofel says that the processor was not put to good use. As the processor supports 1080p HD video encoding–the Streak 7 is even advertised with that feature, the device only offers 720p HD video recording function. Moreover, video quality was not that great.
Another area that could have used improvement on is battery life. Dell has used a smaller battery compared to the Tab and the device seems to be power hungry.
Also, with regards to the screen, although the Streak 7 has a larger screen area, apps were not optimized to take advantage of the larger real estate here. Unlike Samsung, which had re-tooled its basic apps–like those for Calendar, Contacts and Mail–to take advantage of the screen to create a desktop-like user experience with multiple panes, the Streak relied on the basic Android apps and would feel more like an oversized Android smartphone than a tablet experience.
Kevin's points were echoed in Engadget's review of the tablet. However, Engadget goes further to recommend users to wait for Android 3.0, which Google says is optimized and designed for the tablet experience. With Android 3.0 Honeycomb tablets around the corner, Engadget thinks users will get a better experience.
You can read the full review on GigaOm.

As an Amazon Associate I earn from qualifying purchases.