Dell Ultrabook Gallery Live Blog: Photography Professionals
Dell and Intel are kicking off the Ultrabook revolution with an all day photography event at the Carte Blanche Gallery in the Mission District of San Francisco.
The festivities kicked off last night with plenty of Dell XPS 13 Ultrabook demo units in the crowd and an evening hosted by Hooman Khalili, who shot a feature length film on a Nokia N8 smartphone.
Today Dell has invited a number of well known photographers including French photographer Gwen Lafage, to come down to the gallery and talk photos.
We'll be on hand to talk with the presenters and attendees as they go hands on with the Dell XPS 13, and learn more about the art behind taking beautiful photos.
The Dell XPS 13 is a new Ultrabook, which starts at $999. This notebook has a 13.3 inch display, but thanks to a beautiful edge-to-edge Gorilla Glass display and a thin bezel it has the footprint of most 11.6 inch notebooks. So you still have a 13 inch display for working and viewing photos, but if you were to look at the size of the notebook it is about the same as the 11 inch MacBook Air.
Inside you'll find an Intel Core i 2nd Gen processor, 4GB RAM and up to a 256 SSD, for photographers on the go, you'll appreciate the USB 3.0 port for connecting a fast, and spacious, external hard drive.
10:45 –  I have landed here at the beautiful Carte Blanche Gallery on Valencia St. in San Francisco and I will be covering presentations from different photographers for the next couple of hours. I promise to make it interesting.
10:50 – MacBook's have been outlawed it seems and I am not in possession of a Dell XPS 15 Z. Extremely nice, it has been awhile since I used a Windows laptop and it's actually pretty refreshing.
The Dell XPS 15 Z has an extremely spacious keyboard which is perfect for my freakisly large hands.
10:59 – Some of the sights from the event. I think everyone here has had about 15 cups of coffee. And everyone seems to be enjoying the Ultrabooks as much as I am.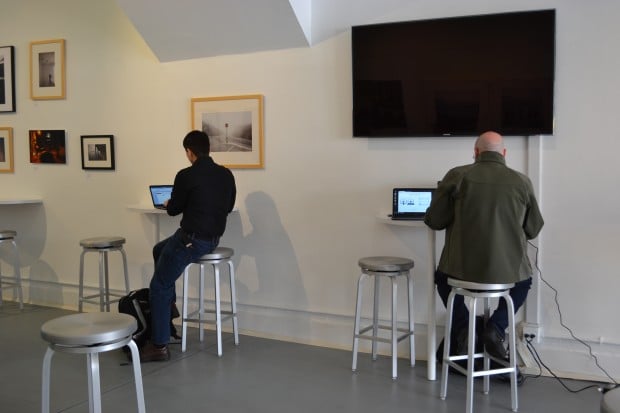 Who doesn't love a good action shot?
11:10 – That's a pretty Ultrabook.
11:26 – Still waiting on the presentations to start, assuming we're a bit behind schedule so hang tight.
11:48 – The thing that impresses me most about these Ultrabooks is the build quality. Both the XPS 13 and XPS 15 feel fantastic and are light enough to take with me as an everyday laptop. Oh, and the Intel Core i7 processor zips.
It handles Windows 7 with ease. Side note: This is the first time I've used Internet Explorer since Middle School.
12:00 – And another of the Ultrabook in action.
12:14 – I've chatted with a couple of passersby who have stopped in to check out the happenings. I asked them what they thought of the Ultrabooks and every single one said they were impressed. In particular, they agreed with my sentiments. They loved the spacious keyboards and the large edge-to-edge displays.
I'll have a quick video of the atmosphere here at Carte Blanche up in a second.
12:17 – Not a bad way to spend a Saturday morning.
12:30 – I think we're close to presentation time.
12:42 –  Finally, a presentation. Unfortunately, the photographer, John Neito could not be here but a lovely woman who represents him stood in. I'll get a video up of part of the presentation soon but the discussion was about how John never leaves home without some piece of technology at his side.
Whether it's a camera or a phone, his mobile devices spurn his creativity.
Here's another video focused on how Neito utilizes technology in his work.
12:51 – There have been people shuffling in and out of here checking out the Ultrabooks and this find gentlemen below was quite intrigued by the XPS 13. Again, it's the screen size and the small footprint that are impressing people, especially here in San Francisco where people often tote around their laptops on their backs.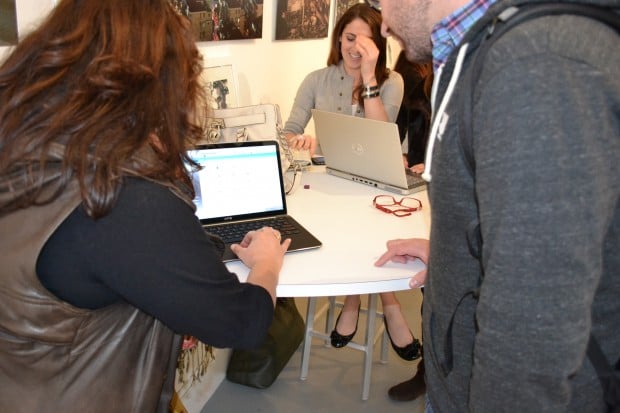 1:01 – Currently listening to  Luis Delgado, an artist photographer from Mexico City who has used technology quite a bit in his work. He has a deep interest in history and politics and he has used the internet to find images for his pieces.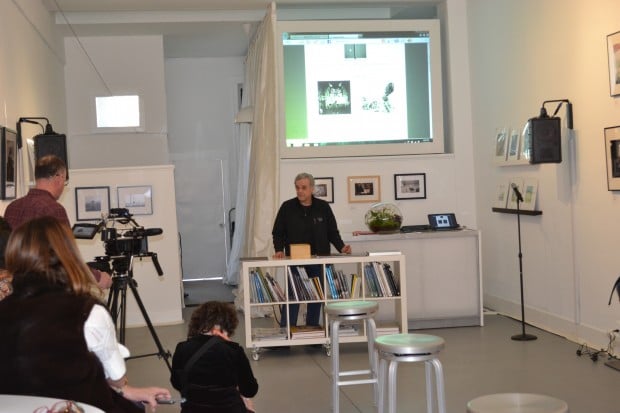 1:12 – He is showing off this fantastic piece which features ridiculous quotes from past Mexican presidents. Pretty hilarious and the piece looked great. He says that he's thinking about doing one for American presidents. Please, please, please do, Luis.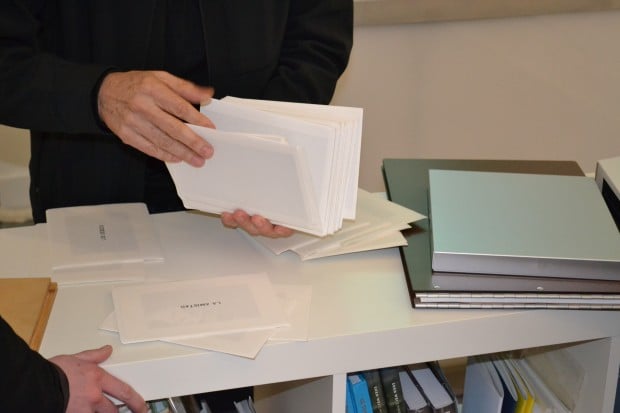 You can find more of Luis' photography and art if you head here.
1:24 –  As promised, here is the video talking a bit about how photographer John Neito incorporates technology into his work.
1:35 –  The ladies sitting in front of me are currently talking about Demi Moore and not the fine Ultrabooks and artwork that populate this room.
For shame.
1:45 – Just in case you curious about the portability of the Dell XPS 13 Ultrabook, here it is being handled with one hand. The XPS 15 that I am using unfortunately is a little too big to be picked up in such a manner.
2:00 – The clock has struck 2PM and that means that I have to take my leave. At least for now. We may be in attendence at the party later on tonight with some more tidbits in regards to Dell's Ultrabooks.
Overall, the last two days have been pretty inspiring and it was nice to finally get some hands-on time with a couple of Windows-powered laptops that I don't hate. Believe me, there are more than a few out there.
It was also interesting to hear about how these photographers and artists use technology to further their work. From Hooman Khalili's movie shot with the Nokia N8, to Luis Delgado's scouring of the internet to find the perfect image for a piece, their stories are inspiring.
It was inspiring for me, and  I hope it was inspring for all of you as well.
Until next time, people.
Win a Dell XPS 13
We've teamed up to give away a Dell XPS 13 thanks to Dell and Intel.
Here's the hastag you need to tweet – #XPS13WIN
Head over to the XPS 13 Giveaway post for al the details.
—
The event kicks off around 10:30 Pacific. Stay tuned for updates.
Live blog post sponsored by Dell and Intel

As an Amazon Associate I earn from qualifying purchases.