Dell and Intel Create Work Inspire Event Live Blog
The Dell XPS 13 is Dell's first Ultrabook, and they are celebrating the launch of this small wonder with a kick off event in San Francisco.
We are on hand at the Carte Blanche Gallery in the Mission District to see what real users think of the thin and light XPS 13 Ultrabook. The event is hosted by Dell and Intel, and will include photography speakers including French photographer Gwen Lafage.
The Dell XPS 13 is a 13 inch notebook, but you wouldn't guess that by looking at the Ultrabook. By combining an edge-to-edge display and a small bezel Dell was able to cut down the size of the XPS 13 to that of the MacBook Air 11-inch model, despite boasting a larger display. The XPS 13 is also lightweight, weighing in at 2.99 pounds.
The Dell XPS 13 starts at $999 and will be available in February.
The 13.3 inch display has a 1366×768 resolution, which is fairly common for the size. To prevent scratches, the display uses edge-to-edge Gorilla Glass.
The kind of glass used on gadgets matters for a number of reasons. Here's a video from CES 2012 at the Corning Gorilla Glass booth.
Inside, you'll find an Intel Core i 2nd Generation processor, up to the 1.70GHz Core i7 model, 4GB RAM and the option for a 128GB or 256GB SSD. The notebook has a built in 6-cell battery which is rated at 8 hours and 53 minutes of use, even with the standard drop in claimed battery life it should get your through most of the day.
Rounding out the machine is Waves MaxxAudio 4, which boosts the sound, even on thin machines like this. Users will also enjoy the standard backlit keyboard and healthy collection of ports including USB 3.0 for fast external hard drive connectivity.
While the notebook uses integrated graphics, Dell is aiming this machine at creators, like the photographers who will be in attendance at the Gallery Event. This highly portable machine makes it possible to quickly look at your work on a larger display while out in the field, without taking up significant space or weighing down a gear bag.
You won't have to worry about taking this notebook out and about thanks to a complimentary year of Dell Accidental Damage Service and a year subscription to Lojack Theft Recovery Service that can track down a stolen laptop and delete your private data.
6:32 – We have touched down here at the Dell event here in the Mission District of San Francisco and we'll be on-hand delivering you the sights and sounds from the Carte Blanche.
6:38 – Currently playing around with the Dell XPS 13 before the talk starts. Very impressed with it thus far. Great feel, sleek, and the screen is extremely large. It doesn't have a big footprint either.
6:42 – Just passed up eating some delicious snacks. Foolish.
6:44 – Alright, presentation is about to begin. We'll be hearing from Hooman Khalili from 97.3FM who shot a full length feature film using a smartphone.
Which smartphone you ask?
Nokia's N8, which has one of the best cameras in the land.
6:48 – Khalili's film is called 'Olive' and he and his team built the rig that housed the N9 from scratch. The phones also had to be hacked in order to get rid of auto zoom and auto focus.
6:50 – 'Olive' was presented at MacWorld yesterday to a standing ovation. Big congrats to Hooman and his crew. Hopefully someone picks up the movie, looked pretty good.
7:01 – I got curious and found a behind-the-scenes look at the making of 'Olive.'
In the video Hooman shares an important part about making any movie look great — casting, planning, directing, makeup and more. If you put enough time into the preparation, and you get the right shots, the camera becomes a smaller part of the equation. It's interesting to see how they had to mount the Nokia N8 in a number of different ways.
7:15 – We've been left to our own devices aka drinks and food, but I am more interested in checking out this ultrabook from Dell. That's how I roll.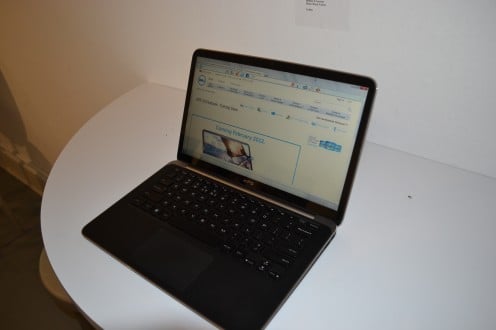 7:23 – Let me say this. I am a MacBook Pro owner but if I didn't own a laptop already, I would seriously consider Dell's ultrabook. I'm serious. The edge-to-edge screen is magnificent and this thing is quick.
Perfect for some quick video editing or a couple hours at a cafe. The base model has an Intel Core i5 2nd Gen processor, but you can opt for the Core i7 if you need extra power for video editing in a small package.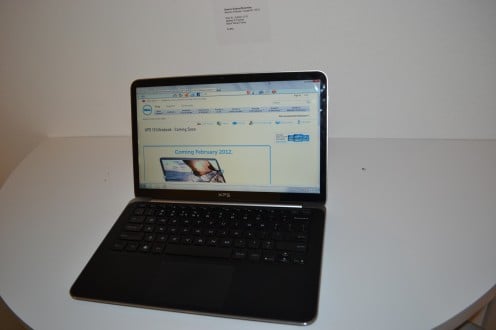 7:40 – Caved and snacked. Also might cave and buy this ultrabook at some point down the road. A couple of folks next to me agree. The size and looks are a big feature, but yet another was impressed with the 8.5 hour battery life rating of the XPS 13.
7:48: The gallery is extremely cozy. Whoever picked this spot deserves a medal.
7:57: Gentlemen next to me says he is tempted to buy this notebook instead of a MacBook Pro. He says he is a "Windows Guy", and likes the look of this machine.
8:10: The Carte Blanche Gallery has started to fill up and people are crowding in around the XPS 13 demo units to get a closer look.
8:20: As the event comes to a close people are impressed with the Dell XPS 13 demo units they saw, and I overheard several people asking what Ultrabook meant. For those of you reading at home, here's a quick explainer about Ultrabooks like the Dell XPS 13.
The Ultrabook was introduced in 2011 by Intel, but this year at CES 2012, they really pushed manufacturers like Dell to bring their A game with new notebooks that didn't cut the power consumers need in order to be priced under $1,000. Our sister site Notebooks.com gave Intel the Best Innovation of CES 2012 Award for pushing the Ultrabook revolution. Ultrabooks like the Dell XPS 13 are just the beginning, and we expect to see prices hit the mainstream later this year.
8:35: We'd like to thank Dell and Intel for hosting this event, judging from my hands on time with the Dell XPS 13, and the reactions of those in attendance February will be a popular month for the XPS 13. I'm still impressed with how small the notebook actually is compared to other 13 inch notebooks. It's closer in size to 11.6 inch notebooks, but you still get a 13 inch display covered in Gorilla Glass, so you have a larger workspace. If you can, look for a chance to see one of these in person when they go on sale in February.
—
Live blog post sponsored by Dell and Intel.

As an Amazon Associate I earn from qualifying purchases.