Dell's New XPS 12 is a Surface Pro 4 Rival
Dell, arguably the makers of the best Windows notebooks we've seen in the last few years, has a slew of new machines ready for shoppers this holiday season. The new XPS 15 takes the already beloved form factor from Dell's smaller machines and super sizes it. The new Dell XPS 12 takes on Microsoft's new Surface Pro 4 with a mix of extras and some savings.
Dell announced its fall line-up of Windows machines ton the heels of Microsoft's own Surface event just two days earlier in New York city. That makes sense as the XPS 12 is aimed at the same market as the Surface Pro 4. The XPS 15 is a bigger, more robust version of the XPS 13 notebook that Dell launched at this year's Consumer Electronics Show. Even the XPS 13 itself is getting an update before the holiday shopping season starts.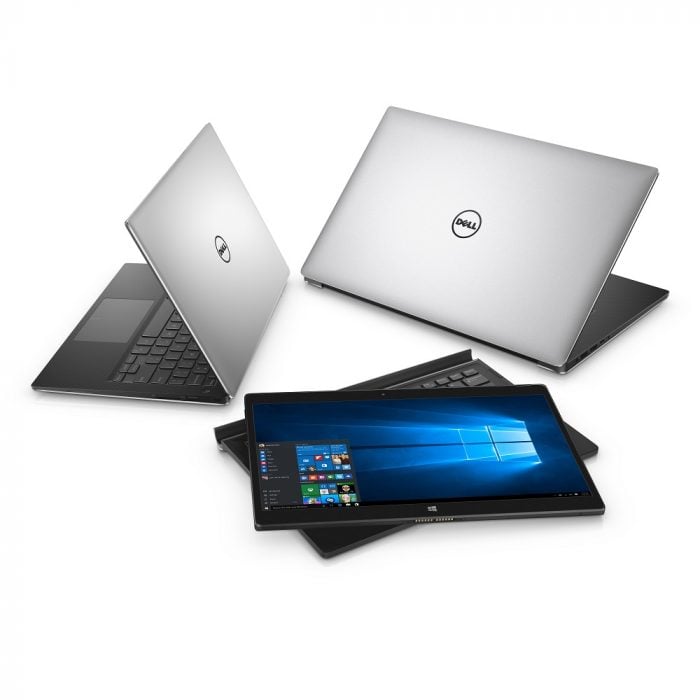 All of these machines use 6th Generation Intel Core processors for better performance and battery life. New Thunderbolt 3 ports allow the entire XPS family to connect to an external dock to add ports and extras they wouldn't other wise be able to.
Users have clearly shown that they want machines that can deliver in multiple ways. The XPS 12 is Dell's attempt at that reaching those people. The machine comes with a keyboard that has a magnetic clip for the XPS 12's body to latch on to. Dell calls this keyboard this keyboard a mobility base, witch backlit keys and touchpad – both are things every productivity machine must have these days. Sold separately, the Dell Active Pen will let XPS 12 users take notes.
The area of the mobility base that the XPS 12 slides into is adjustable so that users can get a few different angles when trying to get comfortable and avoid glare. The $999 XPS 12 is the only Windows 2-in-1 with a 4K Ultra HD display. The XPS 12 also has an 8 megapixel rear-facing camera and a 5 megapixel front facing camera for video chatting and self-portrait taking. The XPS 12 will arrive on store shelves this November, according to Dell's press release.
The XPS 15 is what notebook fans have waited for. This new notebook borrows the thin screen bezel and angled frame of the XPS 13, but gives content creators and professionals the screen real estate they need to avoid connecting an extra display. Sandwiched between the metal skin of the lid and base is a carbon fiber keyboard deck. The XPS 15 has a 15-inch display with a resolution of 3840 x 2160 pixels. That pixel count means that 4K video will play natively on the notebook. Inside the XPS 15 is an NVIDIA GeForce GTX 960M graphics card with 2GB of RAM dedicated to just rendering things on screen. Shoppers can configure the XPS 13 with a 1TB hard drive or 1TB solid state drive for faster boot times and app loading.
Buyers can equip the XPS 15 with an FHD display if they'd like to. Models with that display technology last as long as 17 hours in between charges, according to Dell. The Dell XPS 15 is available now for as little as $999.
The XPS 13 still acts as the welcome mat to Dell's high-end machines at $799. This newer version can be configured with a 1TB Solid State Drive and 16GB of RAM. There's a new Thunderbolt 3 port on the XPS 13 too. Even with the new 6th Generation Intel Core processors, buyers of the new XPS 13 can expect 18 hours of productivity time – provided they go with the model equipped with an FHD display. The new Dell XPS 13 is also on sale right now. It starts at $799, just as its predecessor did when it arrived earlier this year.
All told, Dell's holiday line-up is pretty compelling. The XPS 13 and XPS 15 are evolutions of an already proven form-factor. Dell shouldn't have a hard time convincing users to purchase the XPS 12 rather than Surface Pro 4 either. The XPS 12 might cost $999, but the included mobility dock saves users the extra money it'd cost to get everything they need for Microsoft's 2-in-1.
Dell already has a list of configurations ready for shoppers on its website.