Designers Create Mock Up of Better iOS Notification System
Despite its refined elegance, the iOS platform–used by the iPad, iPhone, and iPod Touch-has a jarring notifications system with its pop-up notification box that demands your attention no matter what app you're in. Developers who didn't want to have their iOS experiences interrupted with Apple's notification scheme have created a mock up to show a more elegant way notifications can be implemented and addressed, though at this point, it appears to be a simple mock up and Apple may not implement this method now or in the future.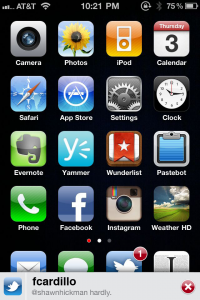 The way the new mechanism works is that rather than having a pop-up in the center of the screen, users will see more subtle notifications appear on the bottom of the display. The notifications UI is very reminiscent of the webOS notifications experience, where users can see and triage notifications at the bottom. In webOS, notifications get stacked, also, so you don't lose prior notifications whereas Apple's current implementation only shows the most current notifications if you have multiple ones coming in at the same time.
Unlike the experience on webOS, designer Shawn Hickman's UI will have the notifications disappear after 5 seconds if there are no interactions. Notifications will then appear, like the Apple UI, by showing a red badge–or a number–next to the app to indicate that there are new updates and also the number of updates for that app. On webOS, the notifications get stacked so your screen area for apps will get reduced by the stacked notification bar until you address the notifications or dismiss them. That means that the apps will have to scale down to the decreasing screen height when notifications come in, unless it's a game app that takes control of the full screen, for example.
Also, there will be list of running notifications through Hickman's design in an area that is shared with Spotlight search. Currently, swiping left to the left-most home screen will show a panel for Spotlight, a universal search tool on iOS. Notifications will occupy a tab on that screen as well for users to address or triage them.
Here's a summary of the notifications system that Hickman wrote on his blog:
Spotlight is a cool feature that I rarely use. That space can be used much more effectively.
Using a small red dot indicating that you have a notification stays out of my way. I can see it, but it doesn't demand my attention.
The bottom of the screen is the best place to have a notification come up. It's non-intrusive and doesn't interrupt what I'm doing.
Pulling a notifications tray from the top of the screen is not the easiest thing to do, unless you have large hands. Managing one on the bottom of the screen is super easy, regardless of hand size.
I didn't want to add another icon to the menu bar. It's already crowded.
The the slide up notifications are disabled whenever you are using the keyboard. This is to prevent interruption.
Via: IntoMobile