Developers Can Now Turn to Apple's iPad to Test Apps Made for Windows 8 Tablets
With Windows 8 just around the corner with a speculated October launch, developers can now fill the gap with a lack of developer devices and begin to test their apps for Windows 8 tablets by using rival Apple's iPad slate. This middle approach may be a great solution for Microsoft as it will make it easy to rally existing Android and iOS developers to get excited about creating apps for Windows 8, and many developers already have an existing iPad to use so they won't have to incur the expense of purchasing a Windows 7 tablet right now, which can start at around $500 and go as high as $1,500 for some machines.
Third-party iOS developer Splashtop, which is known to consumers for its Splashtop remote desktop software, has created a solution for developers to test out their Windows 8 apps on their existing ware in the form of the Win8 Metro Testbed. This solution will allow developers to test their apps now, rather than wait for new hardware to launch.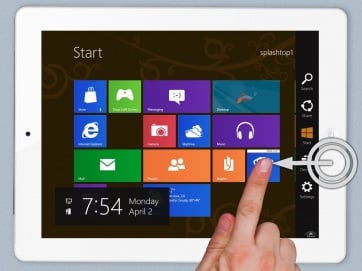 According to Splashtop,
If they want to test their app with touch gestures there's only one way to do that and that is to buy a Windows tablet, and that can cost $500 to $1,000 or more. … And 99 percent of Win8 tablet developers — they have iPads.
The Win8 Metro Testbed will cost developers $50 but is discounted for a limited time for $25, or half off, according to GigaOM.
Windows 8 so far has launched as a public beta, but there is no hardware yet that's built specifically for Windows 8 out of the box. Users who want to test out Windows 8 could load Microsoft's next-generation desktop OS onto an existing Windows 7 device.
Windows 8 will be the first version of Windows that runs on both ARM and x86 processing architectures. With ARM support, Windows 8 will also support full-screen HTML 5 apps.

This article may contain affiliate links. Click here for more details.