Didn't Get A $99 Touchpad? Here Are 5 Other Bargain Tablets To Look At Instead
If the HP Touchpad $99 bonanza inspired your interest in a cheap tablet you were likely very disappointed when they sold out so quickly. You might get lucky and find one in the near future, as stores and people return them to HP. Or you might find that other budget tablets satisfy your longing just as well. Listed below are some alternatives, none of which hit the $99 bargain basement price, but might give people with simple needs what they want for less than an iPad or the higher priced Android tablets.
ASUS Eee Pad Transformer for $350 at Walmart
The ASUS Eee Pad Transformer restored my confidence that an Android Tablet could compete with the iPad. Sadly, customers don't necessarily agree, since no Android tablet has sold as well as the iPad. But I believe that the Touchpad demand proves that poor sales of any non-Apple tablet has more to do with price than anything else. Now that WalMart sells the Transformer tablet for only $350, I recommend you get one before they sell out.
The key thing the Eee Pad has that others do not is a keyboard dock that also doubles as an extended battery. With the dock you have an all-day netbook or tablet in one package. The keyboard retails for another $150, but better to pay $50 less for both.
The display sets the Eee Pad apart as well. It offers a bright and sharp image, besting the similarly-priced Acer Iconia Tab A500. The screen compares nicely to the very sharp Samsung Galaxy Tab and iPad 2, which both sell for more.
Nook Color for $249 at Barnes and Noble
As I said before, the Nook Color serves as a great alternative to the iPad for people who want nothing more than an eBook Reader that also surfs the web, grabs email and runs a few simple apps like Angry Birds or Pandora. At only $250 you can have a color eReader, or root it and have a more powerful Android tablet running anything from Froyo to Honeycomb 3.2.
Archos 101 G9 Honeycomb Tablet for $250 at WalMart
Another tablet that runs $250 is the Archos 101 tablet that makes up one of two tablets in the company's G9 series. Their 8″ tablet runs the same 1.5Mhz Texas Instrument dual-core processor as this 10″ tablet for a little less. Again, this tablet won't compete with the ASUS or the iPad, but knocking off $100 when compared to the ASUS, or half the cost of the iPad, it might satisfy those who just want an Internet surfing tablet that runs a few apps.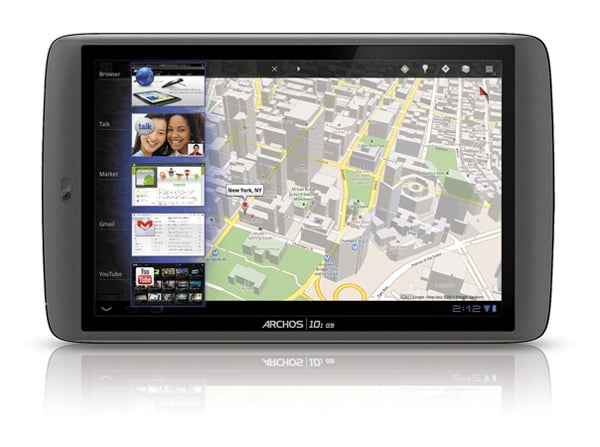 If you ever desire to go wireless outside of the house or work, you can add a 3G stick to these tablets and be up and surfing on the road, with a contract. That is something you can't do as easily with any of the other tablets. Sure there are 3G and 4G tablets, but few Wi-Fi only tablets can be transformed into a 3G tablet with an add-on.
Finally, the Archos G9 tablets promise long battery life and multimedia playback that beats the iPad in terms of the number of multimedia codecs it plays. With built-in HDMI output, you can plug into an HDTV for viewing videos with the family or friends.
For all of you wanting a Honeycomb 3.2 tablet, the Archos comes with it. WalMart has the 101 for $250.
Coby Tablet for $179.99 at Best Buy and Amazon
I haven't played with this little tablet, but have read a number of reviews. It doesn't sound like it is anywhere near as powerful as the iPad 2 or the ASUS. But those with very simple needs and a tight budget might find it useful for web surfing, email and running a few apps.
The 7-inch touch screen black tablet doesn't have the Android Market, but does allow one to add apps through its proprietary store. You could also install the Amazon market, as some of their apps might work. Using WiFi, it has a browser to get online. Thanks to the new Amazon Cloud Reader you could get Amazon as well through the browser, or possibly with the Amazon App Store.
You can find it a number of places but my recommendation was based on reading customer reviews at Best Buy and Amazon, where it is about $180 or $175 respectively. WalMart has it for a bargain basement price of $148.