Discover the Secrets Apps Tell Advertisers With Ad Network Detector From Lookout Mobile
Lookout Mobile has released another useful and free security app, this time aimed at giving Android users more information about the ad networks active on their phones.
Free Android apps often include advertising as a way for the developer to make money. Most of the time they're innocuous enough and you can ignore them, if you want. However, those ads aren't just sitting on the screen waiting for you to click.
Through the installed app, they're gathering information about you and your phone. The exact nature of that information is (or should be) spelled out in the permissions you agree to when you install, but not everyone reads that carefully.
Enter Lookout Mobile's Ad Network Detector. This app scans your phone for apps with ads, then groups them by their behavior and what type of information they collect.
Users will be able to identify which apps use Air Push to place spam ads in the notification bar (the ones with the green crosses we wrote about last month), apps that mess with your browser homepage or bookmarks on your homescreen, collect personal information in a dangerous way, and more.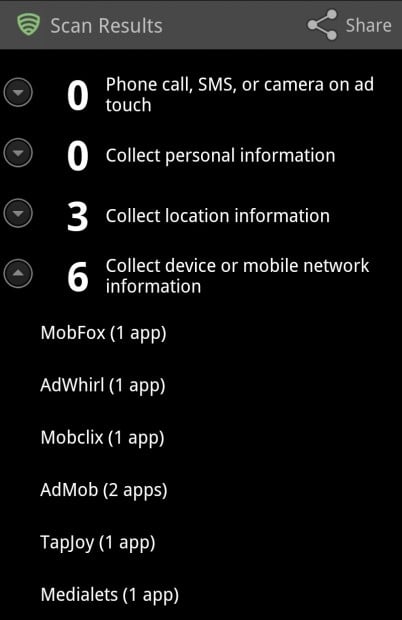 (Related: Pinterest for Android Pins Spam to Your Notification Bar)
If you notice odd behavior like mysterious shortcuts, the browser not behaving, or more, you can download this app to find out which ad network is responsible and which apps use it.
Even if you haven't noticed these problems, Ad Network Detector offers easy-to-understand information about what your phone does that isn't obvious.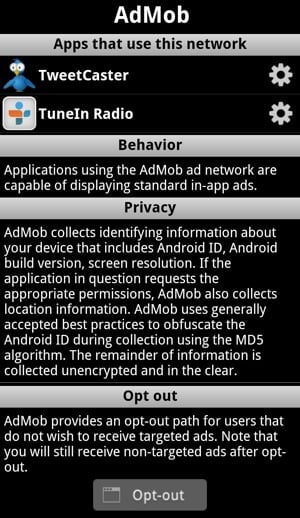 Thankfully my phone is free of ad networks that do anything really heinous, though the amount of unencrypted data going out is troubling. Still, now I now exactly what those ad networks are up to and I can make an informed decision about whether I want to continue using those apps.
I got rid of a few apps that I wasn't really using anymore — tapping the gear icon takes you right to the screen where you can uninstall them — but the rest I really like. The easiest way to continue using them without having to worry about the ad networks getting my data was to upgrade to the paid/pro version. This way the dev still gets some compensation and I get fewer ads.
Download Lookout Mobile Ad Network Detector from the Android Market.