Disney and Imangi Studios Team Up For Temple Run Brave
Brave, the new Pixar movie that comes out in a few weeks, will have an iOS game from the developer that created Temple Run.
According to TouchArcade, Temple Run Brave is the result of a partnership between Disney and Imangi Studios. The game is a re-skin of the original Temple Run with improved graphics and one gameplay addition.
In Temple Run Brave, players control Merida, the red-haired princess who loves archery. Merida spends the game running from Mordu, the evil bear who bit off her father's leg when she was young and is now back to wreak havoc. As with the monkeys in the original Temple Run, if Mordu catches Merida, the game is over.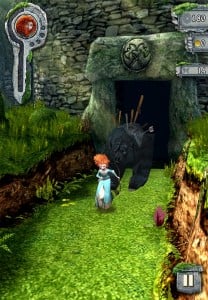 Running away from Mordu is the same as running away from the evil monkeys. Players still swipe to turn, duck, and jump and tilt the device to collect coins. Temple Run Brave adds a new archery element, however.
Some sections of the game will have targets on either side of the path. Players tap the targets to shoot them before Merida runs past. Shooting every target in each area results in a bonus. An on-screen symbol denotes archery sections, so players don't need to always be on the lookout for hidden targets.
Unlike Temple Run, the Brave edition isn't free. The game will cost $0.99 when it hits the App Store on June 14.
The increased price does give players an additional 2,500 coins to start with, though. Temple Run Brave will feature similar in-app purchases for more coins, should players want the option.

As an Amazon Associate I earn from qualifying purchases.