Disney Infinity Combines Video Games, Toys & Disney Characters
Today Disney announced its newest video game and gadget coming out later this year called Disney Infinity.
Disney Infinity is essentially DIsney's take on the Skylanders concept from Activision which features Spyro characters. The new game comes with what Disney calls an "Infinity Base" which players place toys of characters on. The base then imports each specific character into the game, so the player can play as any character they own the toy of.
The game will feature worlds and characters from a number of Disney and Pixar movie franchises. The trailer features Captain Jack Sparrow from Pirates of the Caribbean, Sully from Monsters, Inc., Buzz Lightyear from Toy Story, Perry the Platypus from Phineas and Ferb, and Jack Skillington from Nightmare Before Christmas among many others.
https://www.youtube.com/watch?v=96U2gkgK0o4
The initial lineup of toys will include 17 characters in all, with more likely to come later if the game is successful.
Players can play through the "Play Set" story experience of the game, which looks to involve Toy Story villain Emperor Zurg trying to take over the various worlds of the game.
Potentially a bigger draw than "Play Set," however, is "Toy Box" which lets players create their owns worlds using the game's assets. Players can either create entire worlds alone, or collaborate with friends online or locally. The mode looks like Disney's attempt to add some of the appeal of Minecraft into its game.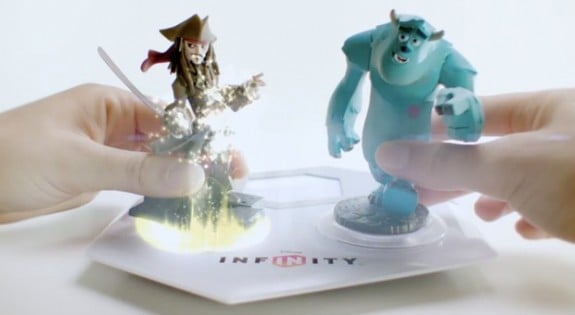 Disney Infinity will come to mobile devices as well as the Xbox 360, PlayStation 3, Wii, Wii U, PC and Nintendo 3DS sometime this June. It's not clear if the mobile version of the game will use the Infinity Base and "Infinity Interactive Pieces," however.
Skylanders, the games that Disney seems to take inspiration from for Disney Infinity has three games available for iOS, two of which do use the physical toys associated with the franchise. It would make sense if Disney's mobile games also used the toys require for the console games, though it'd be cheaper if it didn't.

As an Amazon Associate I earn from qualifying purchases.