Dolly Turns iPhone Into Pro Style Dolly Camera
iStabilizer announced the release of Dolly, an iPhone photo and video accessory that turns the iPhone into a pro style dolly camera great for panning shots or steady moving videos. With it, users can shoot far more stable video or images using Dolly and iStabilizer's iPhone tripod mounts included in the package.
When the pros need to get a steady panning shot they sometimes put their cameras on a dolly system that rolls along giving them smooth shots. For just $60 iPhone videographers can shoot the same kinds of shots using Dolly. Here's a sample video of the kind of shots users can get using iStabilizer's Dolly smartphone or camera mount.
Dolly includes a built-in iStabilizer mount. The company specializes in iPhone mounts and tripods. The mount works with the iPhone, other smartphones like the new Samsung Galaxy S III, or smaller point-and-shoot still cameras or small video cameras. The clamp grabs any camera that's up to 2.75″ wide.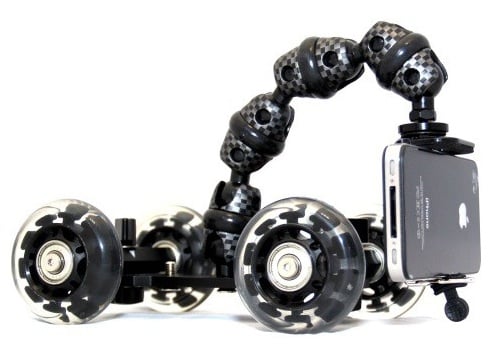 The arm holding the phone or camera measures 11″ long. The user can adjust it to hold the phone in many positions thanks to the adjustable arm. It adjusts so the person shooting the video can use it as shown above or in other angles depending on the shot needed. The arm reminds me of a GorillaPod.
The Dolly's four large wheels covered with a soft rubber make it easier to move over surfaces smoothly. The arm comes off and so the user can attach a regular tripod.
Get one at iStabilizer for $59.95 or $44.31 from Amazon.

As an Amazon Associate I earn from qualifying purchases.