Don't Download Pinterest for Android
"Looking for Pinterest Android application? Download Now!" brags the first search result for Pinterest for Android, but the only thing this app will pin is ads to the Android notification bar.
Just like the last app claiming to be Pinterest for Android, Faster Pin, is not the official Pinterest Android application.
The fake Pinterest app provides a full screen browser with Pinterest as the home page. The claims that this app runs faster than the mobile site of Pinterest is laughable, because that's what this app uses to connect users to Pinterest.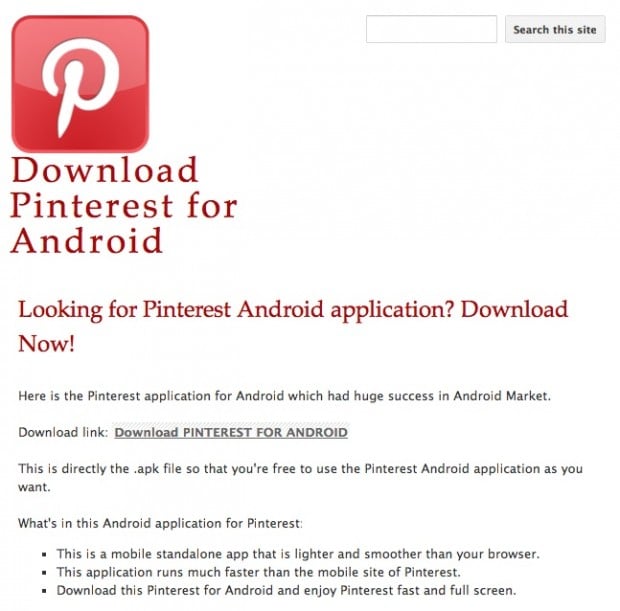 Thankfully this Pinterest Android application only pushes ads like those shown below.

Apps installed from third parties are often used for installing malware and stealing information. The fake Pinterest app has access to browser history and bookmarks as well as the user's location, including fine (GPS) location.
According to Addons Detector, a free app that detects apps that use add-ons to push ads, to discover that FasterPin, uses AirPush to push ads to the device.
Third party Android markets like Amazon and GetJar have a good track record, but apps downloaded from a shared Dropbox link do not have the same level of trust.
This isn't the first app that claims to be the official Pinterest app for Android. We first warned users about the fake Pinterest Android app in the Android Market, now Google Play, back in February, and the problem isn't any better.
There are a number of Pinterest apps that offer access to Pinterest from a dedicated app, but none are the real deal. We recommend using the browser to use Pinterest on Android until there is an official Pinterest Android app.