Draw Something Gets Fantastic Update for iOS and Android
Draw Something, the application that has taken both the iOS and Android gaming worlds by storm, has received a major update today that brings a number of new and highly desired features to both mobile platforms.
The update is packed with a number of features that users of the application have been campaigning for since the application launched earlier this year.
Both the iOS and Android application have seemingly been updated with the same features.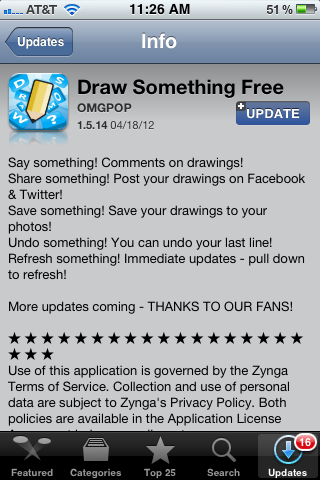 The list includes:
Say Something! Comment on Drawings! – Users can now make comments on drawings, which might just be the best feature included in the update.
Share Something! Post Your Drawings on Facebook & Twitter! – Now users can easily show off their awesome or incredibly bad drawings done within the app.
Save Something! Save Your Drawings to Your Photos! – Users can quickly save drawings to photos if they would rather share them through MMS. It's also nice to have them for the record.
Undo Something! Undo Your Last Line! – This feature allows users to undo the last stroke of the pen with a single button tap. Very convenient.
Refresh Something! – Immediate Updates – Pull Down to Refresh – This will allow users to quickly keep up with their friends.
This is a fantastic update to a fantastic game and it should please both avid and casual users.
The update comes shortly after the application surpassed the 50 million download mark and after OMGPOP, the company that developed the game, was bought by mobile gaming giant Zygna for $210 million.
iOS users can find the update on the App Store while Android users can find the updated version of the game in the Google Play Store.

As an Amazon Associate I earn from qualifying purchases.