Droid 4 Launches Friday for $199 on Verizon (Video)
The long anticipated Motorola Droid 4 finally has a release date. Verizon will start selling the Droid 4 on Friday February 10th for $199.
The Motorola Droid 4 is the fourth version of the original Droid that kicked off the Android craze on Verizon. In the past few years Motorola has greatly improved the keyboard on the Droid, so much so that we called the lasercut keyboard on the Droid 4 is "one of the best physical keyboards to date."
We named the Droid 4 the Best Smartphone of CES 2012 thanks to a number of features, including the keyboard.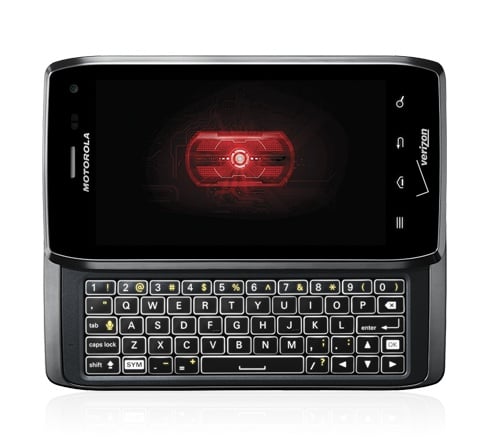 The Droid 4 has 4G LTE connectivity, a first for the Motorola Droid series of phones, as well as a physical keyboard. This keyboard offers a much nicer feel and layout than the Samsung Stratosphere, so if you want a fast 4G LTE smartphone, this is your pick.
Droid 4 Hands On Video
We recommend making sure your next smartphone has 4G LTE connectivity because it delivers speeds of 10 times faster than 3G, with download speeds of 5-12Mbps and upload speeds of 2-5Mbps.
The Motorola Droid 4 has a 1.2Ghz dual core processor and 1GB of RAM, similar to what powers the Droid RAZR MAXX we like so much. The Droid 4 has a 4 inch qHD display with a 960 x 540 resolution. There is an 8MP rear facing camera and a front facing camera for video chat.
Like the rest of Motorola's phones, the Droid 4 ships with Android 2.3, but Motorola has promised to upgrade it to Ice Cream Sandwich (Android 4.0). The Droid 4 is also compatible with the Lapdock 500 ($299), which includes a 14 inch display and software to extend your productivity.
Additional features include FIPS encryption which gives you government grade security for email, calendar and contacts, Citrix Receiver, Smart Actions and a 4G LTE Mobile Hotspot supporting 8 devices.
Smart Actions Demo Video
—
Look for our Droid 4 Review coming early next week.

This article may contain affiliate links. Click here for more details.