Droid 5 Leak Shows Off Motorola's Best-In-Class Keyboard
The keyboard isn't quite dead yet, at least not on a smartphone with a sliding QWERTY form factor. Motorola, which had made the keyboard a staple since the release of the original Droid, is now back at the form factor again with a potential Droid 5. Newly leaked pictures show off what appears to be Motorola's fifth generation smartphone with the sliding QWERTY form factor, a physical keyboard that slides down in landscape orientation, and what looks to be copper inductive charging coils for wireless charging support.
Likely, the Droid 5 will use Motorola's new dual-core X8 processor, comes with the software tweaks that are present on the Droid Ultra and the newly launched Moto X, and sport a 10-megapixel Clear Pixel camera module. The screen size is rumored to be anywhere between a 4.3-inch to a 4.5-inch display. The rumored screen size may mean this may be a Droid Mini with a keyboard attached to it.
The smaller screen real estate will make the phone more pocketable despite a bigger thickness to accommodate the physical keyboard. The leaked images appeared on Chinese social media networks late this week.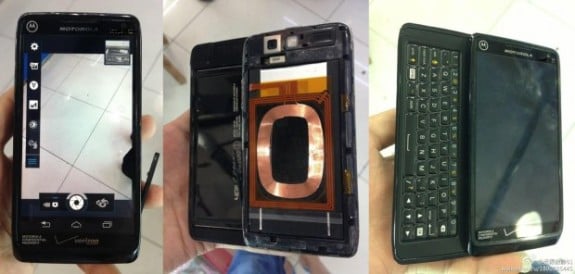 According to a report on Engadget, despite having physical keys on the hardware keyboard, this phone will have a shockproof, dust-resistant, and water-resistant design, making it suitable for those with more active lifestyle. The shockproof design may make this one of the more rugged modern Motorola Android handsets to be introduced.
The handset does show Verizon branding, so likely if this phone does launch, it will come with 4G LTE support in the U.S. It's unclear if Motorola will be making this phone available to international customers like previous Droid handsets.
This may be just the smartphone to hold out for if you're interested in a smartphone but refuse to do without a keyboard. It will likely make Droid 4 users happy when they're eligible for their upgrades. Though this form factor is increasingly becoming less popular thanks to larger touch screen phones, Verizon appears to be committed to this design having recently launched the LG Enact with a similar design, but likely lower end specs than this rumored Droid 5.

As an Amazon Associate I earn from qualifying purchases.