Droid Bionic Appears in More Official Images
Yesterday, we saw some official press shots of the Motorola Droid Bionic leak out which gave us a good look at its thickness. To be honest, it doesn't look like it's that much bigger than the original Droid X. Of course, we'll need to get hands-on before we can confirm that. Still, that's fantastic news for a phone that absolutely needs a massive battery.
And now today, we have some more official images to show you courtesy of Motorola itself.
Seems Moto is updating the Droid Bionic store with new information and images, you can even see the old model number, and it doesn't care if the world sees it or not. I have a feeling we'll see them take it down soon but for now, it's there to look at.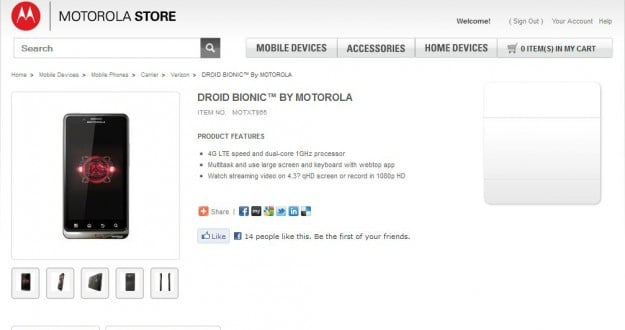 Other than the photos and a couple of specs (4.3-inch screen, 1080p video), there isn't much there. We've already seen the entire spec list leak out for the Droid Bionic, remember?
Nothing big here, like a release date or pricing, but it's always nice to see an unannounced phone show up in an official capacity.
Via: Droid-Life

As an Amazon Associate I earn from qualifying purchases.