Droid Bionic Landing Page Now Lists September Launch
Just in case that September bit in that Motorola Droid Bionic  promo video wasn't enough evidence for you, Verizon has gone ahead and updated the Droid Bionic's landing page with the word 'September' replacing the usual 'Coming Soon.' Sorry folks, the Droid Bionic isn't coming until September which means that the rumored August 26th date is unfortunately dead as a door nail.
If you didn't know the Droid Bionic had a landing page, now you do. It doesn't give us much but it does allow you to put your email address into Verizon's data base in order to get news about the handset that will probably be hours behind anything you find on GBM. Still, it might be worth a shot.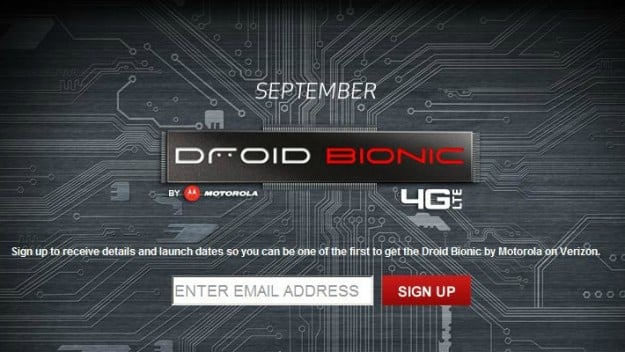 As for the release date, a betting man would probably want to put a majority of his chips on September 8th as that is the release that all the most recent evidence points to. It'll also likely be coming with a $300 price tag through Verizon which, apparently, has driven more than a few of you away.
Verizon, if you're listening, we know the Droid Bionic is ready. Could you just release it already? Or at least give us a pre-order?
That would be nice.
Via: Droid-Life

As an Amazon Associate I earn from qualifying purchases.