Droid Bionic: Official Teaser Commercial (video)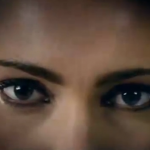 After months of waiting, the Droid Bionic is on the verge of being let loose on Verizon's 4G LTE network. The first official Droid Bionic commercial is making the rounds and it should please Droid fans.
The commercial features an actress dressed in a futuristic Samurai outfit. She walks down a plank and battles a robot for a few seconds.
If you're looking for a glimpse of the Droid Bionic in this ad, you'll be disappointed as this is a phone-free ad.
The tagline "Rule All Machines" flashes towards the end of the commercial and closes with a Droid Bionic logo.
The most important thing of this Droid Bionic teaser is that it shows that its launch is near. As in September. It is one of this year's most anticipated phones and even having a launch month will make a lot of people happy.
The ad is clearly aimed at male Android fans. It's well-produced, but it will likely fall flat with the majority of television viewers.
https://www.youtube.com/watch?v=TxZ6NQnIPkU
The aggressive styling of the Droid Bionic ad reminds us of the early Motorola Xoom ads, such as the one above.
Flashy ads may entertain viewers, but do they really sell devices? Hopefully future Droid Bionic ads will cater to those who've never heard of the Bionic rather than those that are already sold on the device.
The Motorola Droid Bionic is the first phone with both a dual-core processor and 4G LTE capabilities to run on Verizon's network. Many Android users have waited several months for the Droid Bionic to launch, passing on the HTC Thunderbolt, which was Verizon's first 4G LTE phone.
Via: Droid-Life

As an Amazon Associate I earn from qualifying purchases.