Droid Bionic Teaser Video Confirms Release Date
Yesterday, we told you that the September 8th release date for the Motorola Droid Bionic was all but confirmed. And today, a teaser video unearthed by Droid-Life pretty much puts the nail in the coffin. Motorola and Verizon have yet to announce anything but the end of this video, unless it's doctored somehow and it doesn't appear to be, pegs the Droid Bionic's release date as September 8th.
The video is the same teaser video we saw last week only this time it clearly shows a September 8th touch down for the Bionic.
It's a little odd that we haven't just seen an official announcement, maybe Moto and Big Red are just letting us do the talking, but September 8th looks like a go. It's the date we've seen pop up before, it's the date we've had circled on the calender and it's the date that all the evidence has pointed to.
And today's evidence is difficult to dispute.
UPDATE: You can  read our full Droid Bionic Review here.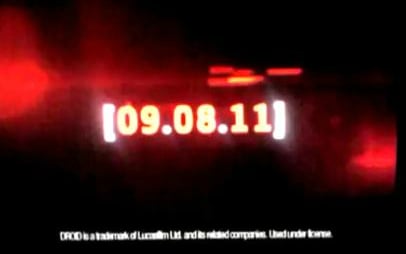 So, now, after all of the leaks, the video, and the photos, we just need the companies behind the phone to make the official announcement and put this thing onto the shelves where it should have been months ago.
Let's just all hope that it doesn't cost $300 on-contract like we think it might. That wouldn't be good for anyone.

As an Amazon Associate I earn from qualifying purchases.