Droid DNA Android 4.4 KitKat Update Confirmed
Last week, HTC confirmed Android 4.4 KitKat updates for the HTC One, HTC One Max and HTC One mini with the HTC One update said to be coming before the end of January. HTC users can add another device to the list as the company has confirmed plans to upgrade the Droid DNA with Android 4.4 KitKat at some point in the future.
After weeks of rumor, Google finally confirmed the Nexus 5 and the Android 4.4 KitKat update. Google confirmed the update for its Nexus 10, Nexus 7 and Nexus 4 but did not confirm the update for any other devices. Shortly afterward though, manufacturers stepped up to the plate and started to deliver Android 4.4 KitKat details to their users.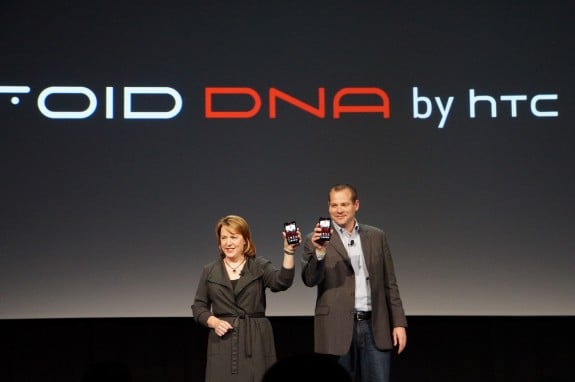 One of them was HTC who confirmed an HTC One Android 4.4 KitKat update within 90 days and also said that the HTC One Max and HTC One mini would get the update after the HTC One. Today, we can add another device to the upgrade list as HTC President Jason Mackenzie has confirmed a Droid DNA Android 4.4 KitKat update for arrival some time in the future.
Mackenzie confirmed the update but declined to offer specifics saying that the device will get the update but that the update schedule is under review. With the Droid DNA likely moving to Android 4.2 Jelly Bean or Android 4.3 Jelly Bean before the end of the year, the update likely isn't going to roll out anytime soon. Instead, 2014 seems more likely given that the HTC One should be first to the new software.
@mmangus58 Mark, it will. Schedule under review

— Jason Mackenzie (@JasonMacHTC) November 2, 2013
Of course, just because HTC says that it will happen doesn't necessarily mean that it will. The company has broken promises before and Verizon is notorious for impacting software releases.
The Droid DNA is turning a year old soon which means that it falls within Google's 18-month upgrade period, something that HTC subscribes to. That means that it has a good of a chance as any to get the upgrade from Jelly Bean to KitKat. Look for Mackenzie to continue to offer small hints about the Droid DNA's future in the weeks ahead.

As an Amazon Associate I earn from qualifying purchases.