Droid Incredible 2 Features Confirmed by Leak
Verizon's Droid Incredible 2 is, as of right now, the worst kept secret in the smartphone world as a leaked internal document has essentially confirmed some of the key new features of the upcoming device including a front facing camera and global capabilities.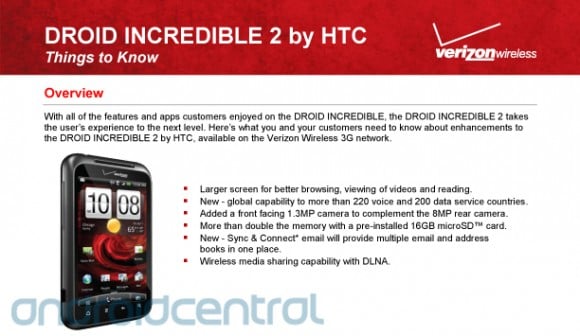 While there had been good speculation that the Droid Incredible 2 would be a global device with a front facing camera, this new evidence confirms both of those to be the case. It's going to have a 1.3MP front-facing camera to go along with its 8MP rear camera and it's also going to employ GSM and CDMA radios for compatibility in 220 voice and 200 data service countries.
It's also going to feature a couple of other things including a new Sync and Connect feature which will provide multiple email and address books all in the same place, DLNA support, and a 16GB microSD card pre-installed.
The Droid Incredible 2 will also have a larger screen which is believed to be 4 inches. While its release date is still unknown, a roadmap leak indicates that it will be out on April 21st with a price tag that will possibly read $199. It has also been unofficially confirmed to be a Droid-branded device.
In any event, the Droid Incredible 2 is coming and it's coming to Verizon soon.
(Via Android Central)

This article may contain affiliate links. Click here for more details.