Droid Incredible 4G Appears in First Official Image
Earlier today, the upcoming Droid Incredible 4G from HTC appeared in the first photos that very clearly displayed not only its HTC and Verizon branding, but 4G LTE branding as well. On the heels of that leak comes the first official image of the Droid Incredible 4G offering yet another look at the phone that should launch on Big Red in the days ahead.
Pocketnow has dug up the first render of the Droid Incredible 4G, complete with Verizon branding.
The device will likely be fairly close to the HTC One S, a device that will be heading to T-Mobile's HSPA+ network in the coming days, possibly on April 25th. However, instead of a 4.3-inch display, the Droid Incredible 4G might back a familiar 4-inch display.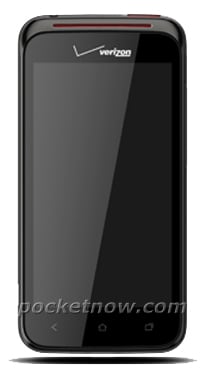 That still hasn't been confirmed.
It'll also feature a Droid Incredible-esque design.
It's also rumored to have a 1.2GHz dual-core Snapdragon processor, possibly of the S4 Snapdragon variety, 1GB RAM, 8GB built-in storage, microSD card slot, 8MP rear camera with zero shutter lag, and a VGA front camera.
In addition, the Droid Incredible 4G is said to have NFC support, Beats Audio, 4G LTE, and Android 4.0 Ice Cream Sandwich with Sense 4.0 over the top.
Neither HTC or Verizon have confirmed the device's existence but all signs point to a launch later on in April, possibly on April 26th.
As for pricing, it's unclear. Verizon launched the Motorola Droid 4 in February for $199 on-contract and it might end up doing the same with the third version of its Droid Incredible line.

As an Amazon Associate I earn from qualifying purchases.