Verizon Gearing Up for Droid Incredible 4G Release
While HTC and Verizon have yet to spill the goods on a device believed to be called the Droid Incredible 4G, unofficial information has been pouring in over the past few weeks. Today is no different as a leaked image, courtesy of Android Central, tells us that Verizon is now making the necessary preparations to release the upcoming smartphone to the public.
The image shows us that Verizon is currently in discussions about the device's MAP, or minimum advertised price. Unfortunately, the image doesn't reveal anything about the price so we still don't know what to expect.
As for a release date for the third-installment of the Droid Incredible series, we've heard that the Droid Incredible 4G release date could be April 26th.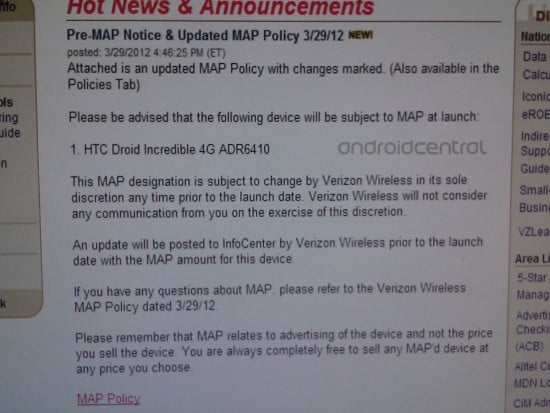 And the fact that Verizon is now talking about the MAP means that that date is still a possibility.
The Droid Incredible 4G or Droid Incredible 3 will be Verizon's third Droid Incredible device following in the footsteps of the Droid Incredible and the Droid Incredible 2.
It's expected to feature a 1.2GHz dual-core processor, an 8MP rear camera, a VGA front-facing camera, an AMOLED screen of unknown size, and 1GB of RAM.
The '4G' in its name refers to the 4G LTE data speeds that the device will have on board when it arrives. The Droid Incredible 2 was a 3G device which means that this will be the first Droid Incredible to sport 4G LTE.
We don't have confirmation yet but we hope that it's running Android 4.0 Ice Cream Sandwich and not Android 2.3 Gingerbread out of the box.
It's very possible that this could be Verizon's variant of the HTC One S (or the HTC One X).
And while that's nice, if these specs turn out to be true, in my opinion,  HTC and Verizon could have done better.
We should know for sure soon.

As an Amazon Associate I earn from qualifying purchases.