Droid Incredible 4G LTE Price Confirmed
Verizon has yet to confirm the pricing of the upcoming Droid Incredible 4G LTE but that doesn't matter now that the price has leaked out today.
Droid-Life has dug up Verizon's current MAP pricing sheet, MAP stands for Minimum Advertised Price, and it reveals the Droid Incredible 4G LTE's on-contract price.
While $299.99 has been seen before, it was thought to have been a placeholder. That has turned out to be the case as the MAP reveals the Droid Incredible 4G LTE price to be $149.99 on-contract as expected.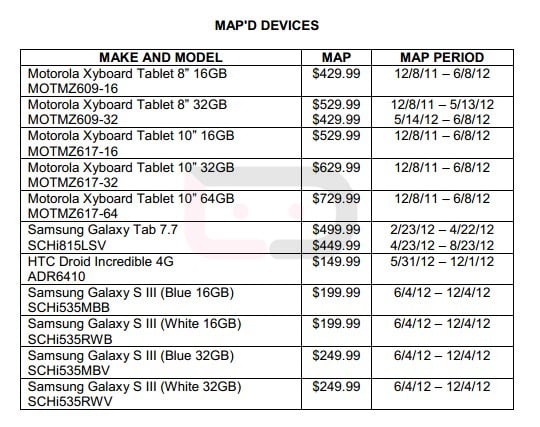 Read: Droid Incredible 4G LTE Release Date Gets Closer.
That price might actually be $199.99, but Verizon is expected to toss in a $50 mail-in rebate for purchasing customers. Obviously, that's not ideal, but it's still welcomed.
Interestingly, the Droid Incredible 4G LTE is listed with a MAP period that started in May. So it appears that Verizon thought that the phone would be out in May.
We theorized that the phone was caught up in the Apple and HTC patent madness that happened in the middle of May and which led to HTC phones becoming stuck at the U.S. border. If true, that may have contributed to the fact that the Droid Incredible 4G LTE release date is still unknown.
Remember, this phone was already announced back in May.
The Droid Incredible 4G LTE is going to Verizon's third in the Incredible line of smartphones and it will be the first that offers 4G LTE speeds. We first saw the device at CTIA 2012 in New Orleans.
Our hands on can be seen in the video below.
Read: HTC Droid Incredible 4G LTE Hands On Video.
It uses a dual core processor to run Android 4.0 Ice Cream Sandwich with the HTC Sense 4.0 skin. The Incredible 4G LTE also has a 8MP rear facing camera and a front facing camera. Beats Audio works throughout all the audio on the device, providing a boost to volume.
It also has a 4-inch display with qHD 960 x 540 resolution. The small size sets the Incredible 4G LTE apart from the larger Android phones coming to market on many carriers.