Droid Incredible 4G Photos Leak Again
Yesterday, a flurry of photos showing the upcoming Droid Incredible 4G from HTC leaked giving consumers a good look at the upcoming 4G LTE smartphone. The phone has leaked out again in two new photos that offer a clear look at the front of the phone.
Droid-Life has leaked out two photos of the front of the Droid Incredible 4G, photos that display the front of the phone without the blur that we saw some with the photos yesterday.
They give us a clear look at three features.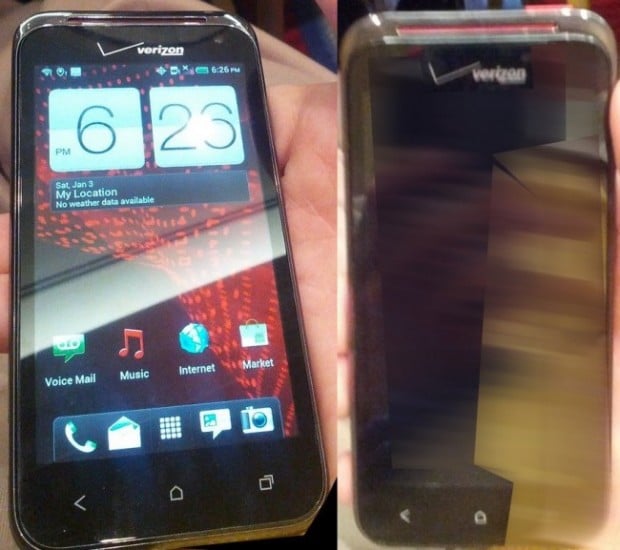 One, the soft keys that will be housed on the device's bezel.
Two, a quick look at how HTC's latest user interface, HTC Sense 4.0, will look on the Droid Incredible 4G.
And three, a closer peek at the Droid Incredible 4G's qHD display, the size of which is currently unknown. It's suspected to be 4-inches, the same as the previous Droid Incredible devices, but it's currently unclear.
These photos also confirm the device's appearance as it has the same look of the device that we saw yesterday.
So it's safe to say, this is the Droid Incredible 4G and this is the device that Verizon will launch at some point in the near future.
Speaking of that, it's supposedly going to be launching on April 26th on Verizon's 4G LTE network, although that still hasn't been confirmed.
Also unconfirmed, the Droid Incredible 4G's specs. Rumored features are said to include:
qHD resolution display
1.2GHz dual-core Snapdragon processor
1GB RAM
8GB built-in storage, microSD card slot
8MP rear camera with zero shutter lag
VGA front camera
NFC support
Beats Audio (no headphones included)
4G LTE
Android 4.0 Ice Cream Sandwich with Sense 4.0
Look for an official announcement soon, now that the device is very blatantly out in the open.

As an Amazon Associate I earn from qualifying purchases.