Droid RAZR HD Camera Images Spotted on Picasa
It looks like what appears to be among the first series of shots taken with a camera that is believed to be found on Motorola's next-generation Droid RAZR HD for Verizon Wireless are now starting to appear on Google photo sharing site Picasa. The EXIF photo data on Picasa reveals that the shot originated from a camera from the Droid RAZR HD model and features an aperture of f/2.4.
The latest photos taken with the Droid RAZR HD camera were reported on Droid-life.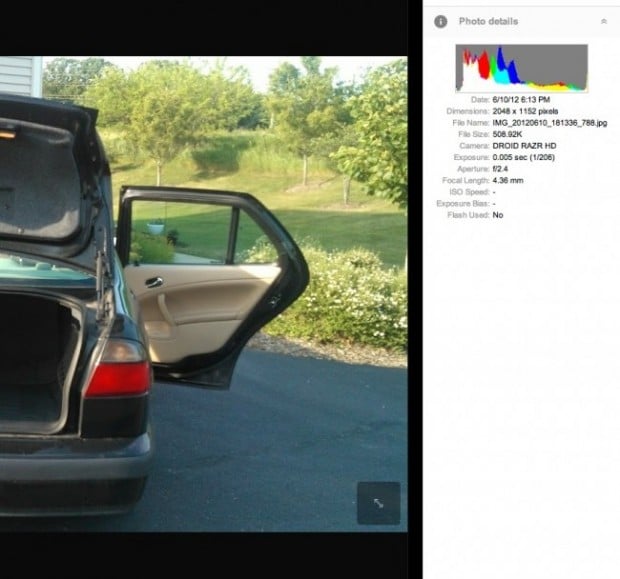 The Droid RAZR HD is anticipated to be announced this summer and the device has been speculated to launch with Android 4.0 Ice Cream Sandwich on a 720p HD display. The Motorola Droid RAZR HD will have a slightly larger screen size than the Droid RAZR and will also feature a 13-megapixel camera, up from the 8-megapixel rear camera on the Droid RAZR today. The battery is said to give users a full day of heavy use on a single charge and will have a slightly smaller than the capacity on the Droid RAZR Maxx. Like recent high-end smartphone launches, the Droid RAZR HD is expected to debut with Qualcomm's dual-core Snapdragon S4 processor and support for Verizon 4G LTE.
The image found on Picasa was presumably uploaded by a Motorola employee who was testing the phone. While the 13-megapixel camera sensor may appear new in the U.S., Motorola has released Android smartphones in China with the same pixel resolution in the past.
In addition to sharing design aesthetics with the RAZR line, the Droid RAZR HD will also share the same Kevlar material on its back battery cover.