Video Hands-On: Motorola Droid RAZR Smart Actions App Is An Intelligent Idea
One of the features Motorola included in the new Droid RAZR is a utility called Smart Actions. This app will perform a wide variety of tasks based on specific triggers that range from being in a certain location to the time of day.
This idea isn't new — there are already a few apps on the market that do something similar — but this implementation is both easy to figure out and pre-loaded, giving it a leg up on the competition.
One basic use case for Smart Actions is saving the battery when you get down to a low level. You can set the RAZR to turn off all radios when it hits 20%, lower the screen brightness, or any number of actions to consume less power.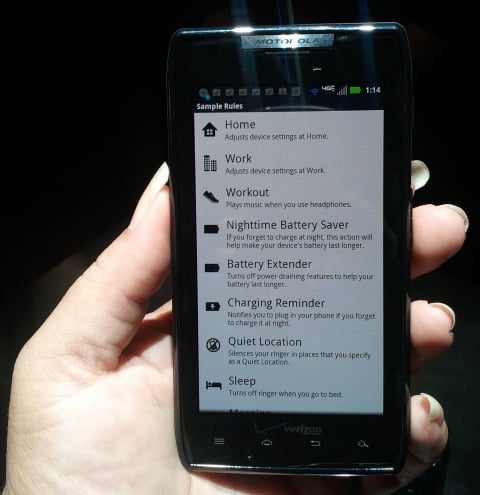 However, I quite like the ability to turn the Wi-Fi radio on and off depending on your location. My phone knows the hotspot at home and work, so I leave my WiFi on all day so it'll connect when in range. It doesn't use up that much battery to do so, but it would be nice to conserve that energy more, if possible. With Smart Actions I don't have to worry about it.
Motorola gives users the chance to create their own Smart Actions events from scratch or to use one of the suggested ones, which is helpful. Again, by making this easy for users it makes it easier for them to adopt.
See Smart Actions in action in the demo video below. This is definitely something I'll be eager to try once we get the RAZR in for review.

As an Amazon Associate I earn from qualifying purchases.