DROID Turbo Leaks To Speed Past Galaxy S5
Motorola has a busy month of September planned with tons of new products. Those include at least two smartphones and the Moto 360 smartwatch, but a new report suggests they have a phone to take on the Galaxy S5 and LG G3 following close behind.
The Moto X+1, Moto G2, and Moto 360 smartwatch are all reportedly coming next month and are scheduled to be announced on September 4th, but that might not be all the company has planned for next month. New leaks have surfaced suggesting a high-end Motorola DROID Turbo for Verizon is coming soon.
Read: Moto MAXX Rumors Emerge as X+1 Release Nears
As many of you may know, Motorola and Verizon have an exclusive deal to offer up "DROID" branded smartphones. In the past we've seen a few from HTC, but moving forward all Verizon DROID phones will be manufactured by Motorola. We've yet to see anything from Motorola or Verizon on that front in 2014, but a few are reportedly coming soon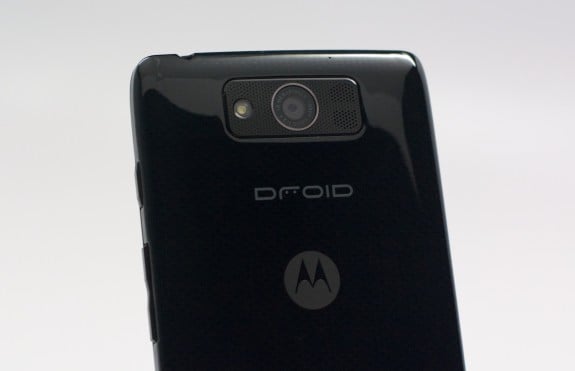 Last years DROID Ultra and Ultra MAXX are still impressive phones, ones that already run the latest Android 4.4.4 KitKat, but their successors should be coming soon considering it's nearly September and we've yet to see anything new from Verizon or Motorola.
In 2013 the new DROID lineup actually arrived a few weeks before the popular Moto X, but that doesn't appear to be the case so far this year. Motorola is making the Moto X+1 and G2 priority, while still making room for the new Verizon DROID smartphones. The Moto X+1 may be first to market, but if the leaks below are accurate the Verizon DROID Turbo will be the better smartphone, one consumers may want to wait for.
According to AndroidAuthority the new DROID Turbo is indeed real, and a few screenshots from a well-known app CPU-Z reportedly show off all the specs. These can be faked, so we'll take it with a grain of salt, but new DROID smartphones should be coming sooner rather than later.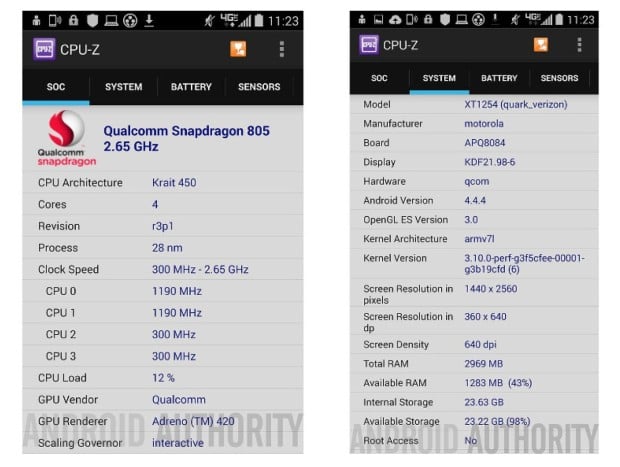 If what we're seeing above is correct, following the new Moto X+1 release Verizon and Motorola will debut a new smartphone that should take on the Galaxy S5, HTC One M8, LG G3, and of course the new iPhone 6.
There's no mention of the screen size, but coming with a large 2560 x 1440 Quad-HD display, we'd imagine at least 5.2-inches like the Moto X+1. The DROID Turbo will reportedly run a new Snapdragon 805 Quad-core processor running at 2.6 GHz, offer 3GB of RAM, and this report goes as far as to say a 20 megapixel camera on the rear. That being said, the entire DROID lineup and Moto X last year were nearly identical, with a 10 megapixel camera, so we doubt Verizon would have an exclusive on any hardware that tops what Motorola's offering with the Moto X+1.
Read: Motorola DROID Ultra & MAXX Android 4.4.4 KitKat Updates Arrive
The leakster claims the new DROID Turbo will only have a 5-inch display, yet still have a 2560 x 1440 resolution panel. Meaning it could be one of the best displays available in 2014. The device in question is model number "XT1254" and is also being listed as the "quark_verizon", but that's all we know thus far.
All said and done, this new Motorola smartphone has already silently cleared Bluetooth certification in the US, will likely be headed to the FCC for its testing next, and shortly thereafter be released i the United States on Verizon Wireless. That is, if all of this ends up being accurate information.
Verizon and Motorola are due for an upgrade to replace the current DROID lineup, and it arrived in August last year, so chances are we should be hearing and learning more regarding what's in store very soon. If rumors are accurate the company could release both a DROID Turbo, and a longer lasting DROID Turbo MAXX in time for the fall season.

As an Amazon Associate I earn from qualifying purchases.