DROID Turbo Lollipop Update Release Details Emerge
Rumors about the popular Motorola DROID Turbo Android 5.1 Lollipop update have been floating around since as far back as December of last year, but here we are nearly seven months later and it has yet to arrive. Yesterday though, our first solid details surfaced and it appears the Turbo Android Lollipop update is finally coming soon.
Currently the Motorola DROID Turbo is running a nearly stock version of Android 4.4.4 KitKat, and has seen a few updates from Verizon already. For months we've been hearing the DROID Turbo Lollipop update is coming soon, but yesterday Verizon changed its website and now states the Turbo is running Android 5.0.2 Lollipop.
Read: DROID Turbo Android 5.1 Update: What to Expect
Android 5.1 Lollipop, the successor to Android 4.4 KitKat, was released in November of last year just a few weeks after Verizon debuted the DROID Turbo. Since then users have been waiting for an update, and multiple leaks claim it's coming soon, but now we may actually have some solid information to go on.
Update: It looks like Motorola's own David Schuster took a moment to post on Google+ today and clear all of this up. The DROID Turbo will be updated straight to Android 5.1 Lollipop, and it's in the final testing phase. Hopefully this means a release is coming sometime this month.
Last week some rumors suggested the DROID Turbo Android 5.1 Lollipop update would arrive yesterday, on June 10th, but that never happened. However, one source close to David Ruddock of Android Police promises it will be released on June 12th, this Friday. And while that's only a rumor that can't be trusted, not to mention all release dates have the possibility of being delayed, Verizon's own changes have us thinking this rumor is accurate.
Yesterday Verizon Wireless changed the official DROID Turbo landing page and specs list on Verizonwireless.com to reflect the DROID Turbo is running Android 5.0.2 Lollipop. Yes, that is Android 5.0.2 and not Android 5.1 Lollipop.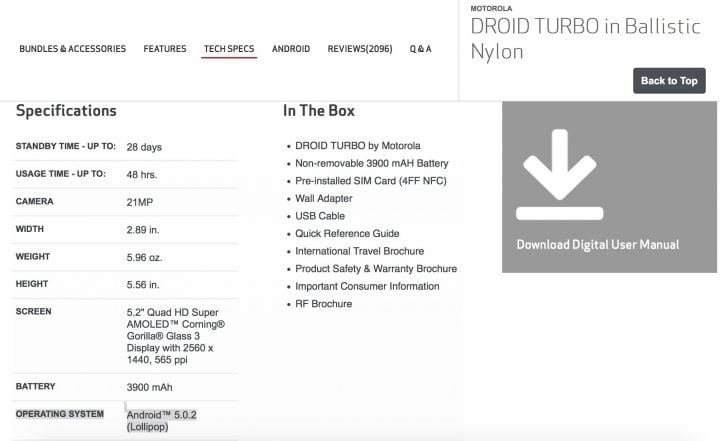 There are two problems with that. For one, the DROID Turbo is still stuck on Android 4.4 KitKat and hasn't received Lollipop. And two, Motorola and Verizon have both promised the device will jump straight from Android 4.4 KitKat to Android 5.1 Lollipop. This is to ensure it doesn't have any of the initial Android 5.0 Lollipop bugs, not to mention will be able to use Verizon's own VoLTE (HD Voice calling) feature.
The DROID Turbo Android Lollipop update has been delayed time and time again specifically to deliver Android 5.1 and VoLTE, rather than just releasing Lollipop, only to have to release another update later.
Read: Android 5.0 vs Android 4.4 KitKat: What's New in Lollipop
Last month Jose Arturo, a Verizon Engineer working and testing software updates, posted a picture of the DROID Turbo running Android 5.1 Lollipop on Google+ and answered a lot of questions surrounding the update. According to Arturo a few small bugs with Verizon's VoLTE (HD-Voice calling) is the cause for the delay, and after fixing a few bugs the software will be released. He specifically stated mid-June, but we've yet to hear from Verizon themselves until yesterday.
His comments suggested mid-June for the release, and here we are approaching the middle of the month and we're starting to see some movement on the DROID Turbo front. Between the rumors linked to above and Verizon's own website, the DROID Turbo Lollipop update could finally be coming soon.
That said, it's possible the update will sadly be Android 5.0.2 Lollipop and not Android 5.1, but we'll have to wait and see. Motorola has been promising Android 5.1 all along, but a few outstanding bugs or issues could have that release being delayed even further. That, or Verizon will delay it again in order to deliver the absolute latest Android 5.1.1 Lollipop Google recently released.
All said and done, it looks like at least some variant of Android Lollipop is headed to the DROID Turbo soon, possibly as early as tomorrow, but in the end we'll simply have to wait and see. We will update the moment we know more.

As an Amazon Associate I earn from qualifying purchases.