DROID Ultra, Maxx, and Mini Android 4.4.4 KitKat Update Begins
After only a few days of testing Verizon and Motorola have officially kicked off the Motorola DROID Ultra, DROID MAXX, and DROID Mini Android 4.4.4 KitKat updates after a long string of delays. Today Verizon posted a full changelog that should have users excited about what's in store.
Users with any of the 2013 DROID smartphones from Motorola and Verizon have likely been frustrated over the update situation this past few months, but it's finally all about to be resolved. After multiple updates reached the testing phase, they eventually were delayed and today the trio of smartphones are still on their first Android 4.4 Kitkat update, missing key updates and security patches that have arrived recently.
Read: Android 4.4 KitKat Problems Arise for DROID Ultra & Maxx Owners
Last week the first official sighting of the DROID Ultra & MAXX Android 4.4.4 KitKat update was spotted, and Motorola confirmed its feedback network was in the final testing phase before a global rollout, and that's finally about to begin for all Verizon customers.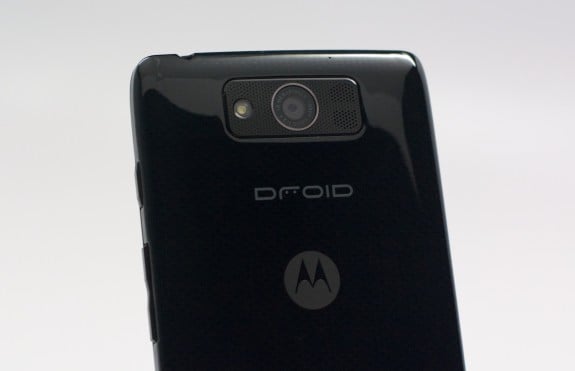 Motorola DROID Ultra & MAXX owners have patiently been waiting for an update since first getting Android 4.4 back in December of 2013, which actually ended up getting delayed into the early weeks of January, and the same can be said about the update for the DROID Mini. An update that was filled with small bugs that needed to be fixed, and haven't.
It's now July and more than five months have passed since the first DROID Ultra Android 4.4 KitKat update arrived, and users are finally about to get the latest and greatest. Android 4.2 was promised months ago, then canceled in favor of Motorola jumping straight to Android 4.4.3 KitKat instead. However, Google surprised many last month and released another update to Android, version 4.4.4 KitKat with some crucial security patches, and bug fixes.
Read: Android 4.4.4 KitKat Updates Continue to Arrive
After a short soak test (aka beta test) by Motorola feedback members next week it appears as if both Motorola and Verizon are giving the DROID Ultra, MAXX, and Mini Android 4.4.4 KitKat the green light, and the full changelog and update details have been posted to Verizon's support pages.
Motorola also confirmed the updates this afternoon, sharing a few details buyers and current users should know and expect once the software upgrade arrives on their handsets. Here's a few of the many changes owners can expect.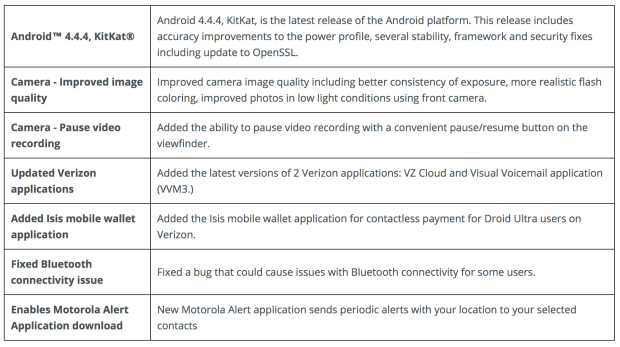 As you can see from the detailed changelog above there's a lot of changes here, even if they aren't visual. Android 4.4.4 KitKat will deliver improvements to the power profile, stability, framework and security of your devices, as well as many other security patches. The DROID's 10 megapixel camera will be getting some major enhancements, as well as a pause/resume button for 1080p video recording.
The Android 4.4.4 KitKat update for the DROID lineup also delivers Motorola Alert, a new app designed to share you location with people you select. A feature great for kids or the entire family to keep track of one another. Then finally some bluetooth fixes, updates to bloatware, and the ISIS mobile wallet application.
Read: Moto X & Droid Ultra Android 4.4.4 Kitkat Update Breakdown
Currently there's no exact date for when the Motorola DROID Ultra, MAXX, and Mini Android 4.4.4 KitKat update will officially start arriving, but it's usually within 24 hours of Verizon posting the changelog details. This means that owners can expect to see an over-the-air notification appear on their smartphone anytime from today and the weekend, or within the next two weeks.
As usual you can head into settings > about phone > and check for updates manually if you'd like, and hopefully pull down the latest Android 4.4.4 KitKat update for your device as soon as possible to reap the benefits.

As an Amazon Associate I earn from qualifying purchases.