Dual-Core AT&T HTC One XL Zippier Than Quad-Core Tegra HTC One X
At Mobile World Congress, fans of the HTC One X found themselves to be disappointed by the AT&T variant that's coming to the U.S. as the HTC One XL–based no the same design and specs–will eschew the international version's quad-core processor in favor of a dual-core Snapdragon S4 processor for better compatibility with the U.S. carrier's network. That disappointment, as we find out, may have been a bit premature as early benchmarks for the dual-core One XL prove to be zippier than the quad-core Tegra 3 chipset found on competing tablets and the One X. It looks like despite having a more modest number of cores, AT&T may have picked a better processor that will work well on its 4G LTE network as well as deliver better performance.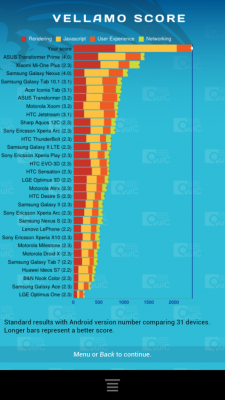 According to Android Central forum member Phonegeek, who obtained a pre-release edition of the AT&T One XL smartphone from HTC, the phone's performance proved to be faster than Tegra 3 using tools such as Vellamo and Quadrant. The HTC One XL with its S4 CPU outperforms the Asus Transformer Prime, which is an Android tablet utilizing the NVIDIA Tegra 3 chipset. The One XL easily bests the dual-core Samsung Galaxy Nexus, which itself is a zippy performer.
While benchmarking results don't always correspond to real world performance and usage, it does confirm earlier tests, as well as Qualcomm's claims, that the dual-core Snapdragon S4 is a noteworthy performer that could outclass quad-core competitors.
It'd be interesting to see how the One XL's S4 chipset will fare against Huawei's proprietary K3V2 quad-core chipset. That chipset has also proven itself to be quite a worthy contender from newcomer Huawei, which is making its first foray into the CPU space with its own in-house chip.